Bangladesh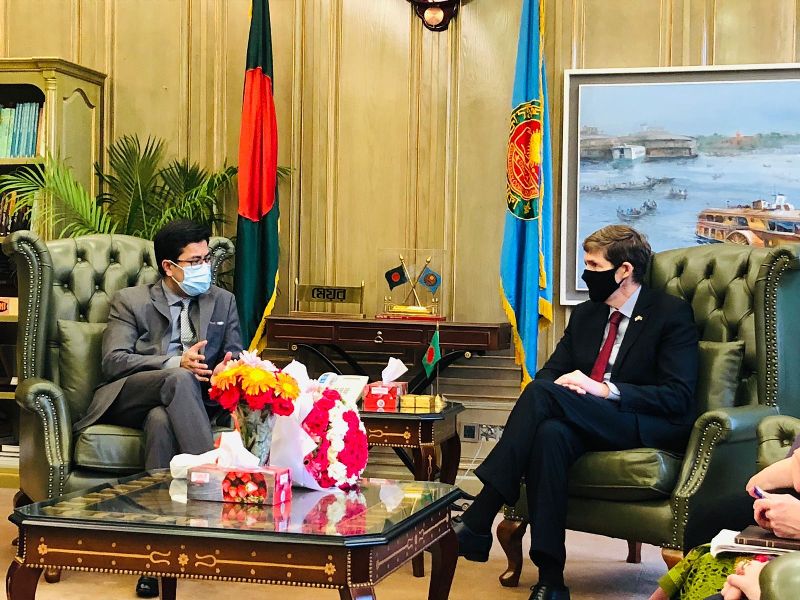 twitter.com/USAmbBangladesh
US interested in investing in Dhaka's infrastructure development
Dhaka, Ocotber 6: The United States has expressed interest in investing in the development of urban infrastructure and cooperation with the Dhaka South City Corporation (DSCC) in improving the quality of primary health care in the city. Earl R. Miller, the US Ambassador to Bangladesh, expressed this interest in a courtesy call on DSCC Mayor Sheikh Fazle Noor Taposh at the Mayor's Office in Nagar Bhaban on Tuesday (October 5) afternoon.
During the meeting, Dhaka South City Corporation Mayor Taposh, said that for the first time, a long-term integrated master plan is being prepared by the corporation.
"Considering the context of the city we want, maintaining the ecological balance of the city, rescuing canals and reservoirs and removing waterlogging, creating an aesthetic environment along the banks of the Buriganga, restoring the original Buriganga channel and building river protection dams, establishing a new central commercial zone in Kamrangirchar. A long-term master plan is being formulated for the establishment of modern and up-to-date road network in 18 newly connected wards," he said.
He said, "Under the plan, necessary steps will be taken to increase the civic amenities of 1 crore 20 lakh people of the city and to remove future obstacles in the long run. That's why I urge you to increase the flow of U.S. investment in the various initiatives and activities we've taken on the overall development of South City."
In response, Ambassador Earl R. Miller said, "The formulation of a comprehensive master plan initiated by the Corporation is very timely and encouraging. I would urge US businessmen to visit and invest in the area."
He said, "Terrible disasters like earthquakes can cause severe problems in densely populated areas like Dhaka city. So in many cases we can conduct simultaneous cooperation activities in tackling this disaster. We are also interested in working together to improve the quality of primary health care in the city. As a result, we are hopeful that the quality of health care in the city will increase as well as the skills of all concerned will increase."