Bangladesh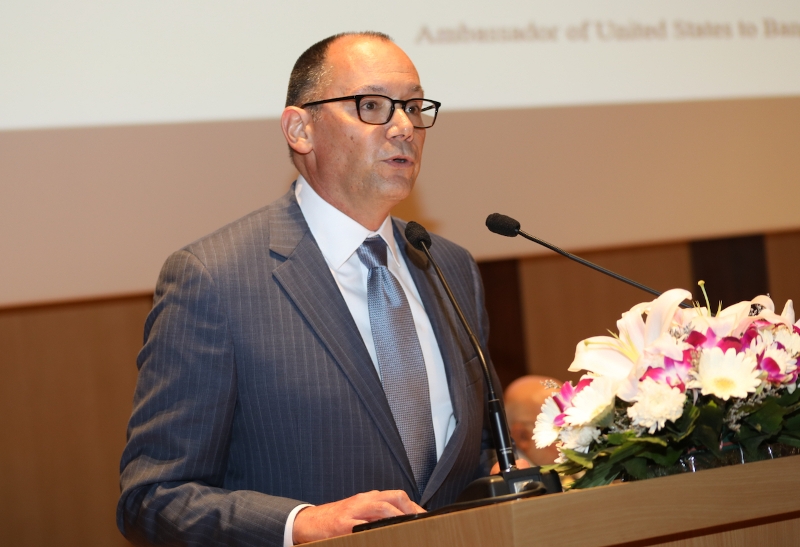 File photo/Wikimedia Commons
US keen to build effective relations with Bangladesh
Own Correspondent, Dhaka, May 19: US Ambassador to Bangladesh Peter Haas has said that his country is keen to build effective relations with Bangladesh.
This year, a number of bilateral meetings are being held between Washington and Dhaka at various levels. He said this while speaking to reporters after a meeting with Foreign Secretary Masud bin Momen at the Foreign Ministry on Wednesday.
"We have talked about how we can move our relationship forward and how we can build an effective relationship," Haas said.
He said, during the meeting, they had discussed bilateral issues between Bangladesh and the United States and how to move that forward.
The ambassador said that the two countries have also discussed issues that have been the subject of bilateral meetings in the past two months. They also discussed the Bangladesh-US High Level Economic Forum to be held in Washington in the first week of next month.
Currently, the ninth defense dialogue between Bangladesh and the United States is underway. Both countries are keen to strengthen security cooperation in a changing geopolitical context.
The meeting focused on the security environment in the Indo-Pacific region, joint military exercises between the two countries, modernization of the armed forces, General Security of Military Information Agreement (GSOMIA), counter-terrorism, humanitarian and disaster management.
The 50th anniversary of diplomatic relations between Bangladesh and the United States was celebrated in Washington on April 4 with a series of bilateral meetings between Bangladesh Foreign Minister AK Abdul Momen and US Secretary of State Antony Blinken. In the same month, the eighth round of security talks between Bangladesh and the United States was held in Washington DC.