Bangladesh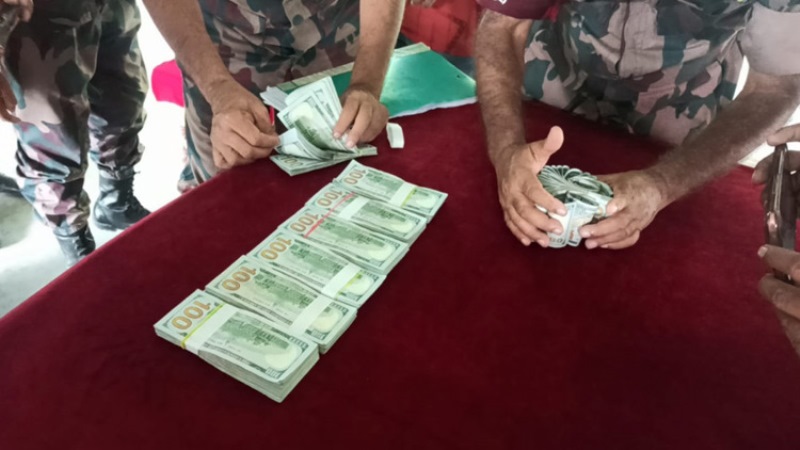 Photo: Collected
USD 80,000 seized from border while being smuggled to India
Own Correspondent, Dhaka, August 5: BGB has seized 80,000 US dollars from Chuadanga border while those were being smuggled to India.
These dollars were recovered from the Bangladesh part of Pillar No. 85 of Damurhuda Upazila's Fulbari border at 11 am on Wednesday (August 3). However, the BGB could not arrest the trafficker. This information was given in a press conference at the 6 BGB office at 4 pm.
According to BGB, a patrol team of BGB conducted a special operation at Fulbari border based on the information that a large shipment of dollars will cross the border through Chuadanga border. A man carrying a bag was chased when he was suspected. At that time, the person left the bag and ran away. The bag was searched and eight bundles of dollars were seized. A total of 80,000 US dollars was found in eight bundles.
Director of Chuadanga 6 BGB Lt. Col. Shah Md. Ishtiaq said that a case has been registered at Darshana Police Station regarding the recovery of dollars. Initially, it was believed that the consignment of dollars was being smuggled from Bangladesh to India.
BGB has said that strict surveillance has been increased in all border areas of the country after the incident to prevent dollar smuggling. Besides, the Detective Branch (DB) police has also increased surveillance.
In this regard, Dhaka Metropolitan DB Chief Additional Police Commissioner Mohammad Harun Or Rasheed said that if anyone illegally hoards dollars, action will be taken against them. Besides, if someone makes fake dollars illegally, even if he gets the information, the operation will be carried out. We are collecting information about this.