Bangladesh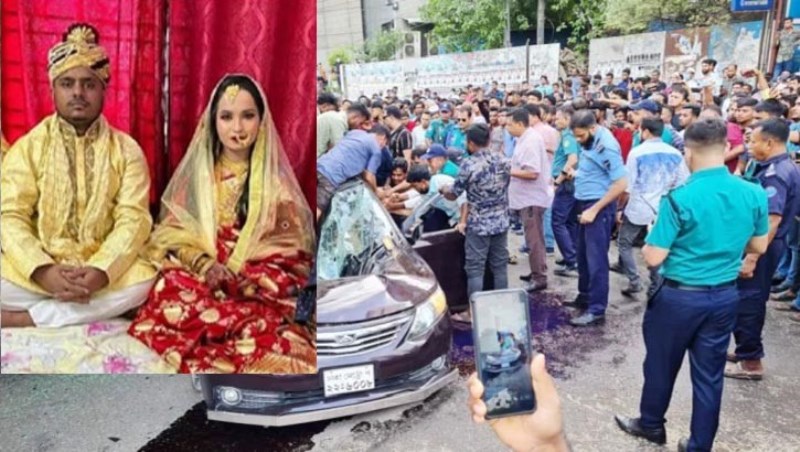 Photo: Collected
Uttara crane accident: 5 dead, only newlyweds survive
Own Correspondent, Dhaka, August 16: Five passengers of a private car were killed when a girder fell on the sedan from the crane of the under-construction Bus Rapid Transit (BRT) project in Uttara of the capital. However, a recently married couple in the car survived the accident. They are groom Hriday (26) and bride Riya Moni (21). They are undergoing treatments at a local hospital.
On Monday night, the fire service confirmed that there were a total of seven passengers in the car. Among them, two children, two women, and a man died. The deceased have been identified as Rubel (50), Jharna (28), Jannat (6), and Zakaria (2). The identity of the other person killed is not yet known.
Assistant Sub-Inspector (ASI) of Uttara West Police Station, Arifuzzaman, who participated in the rescue operation at the spot on Monday (August 15), said that local people rescued the injured husband and wife and took them to Uttara Crescent Hospital. They are under treatment there.
The victims came to a wedding ceremony in Dhaka. They were returning home after attending the event. The family met with a tragic accident on their way back. The police said this citing their relatives.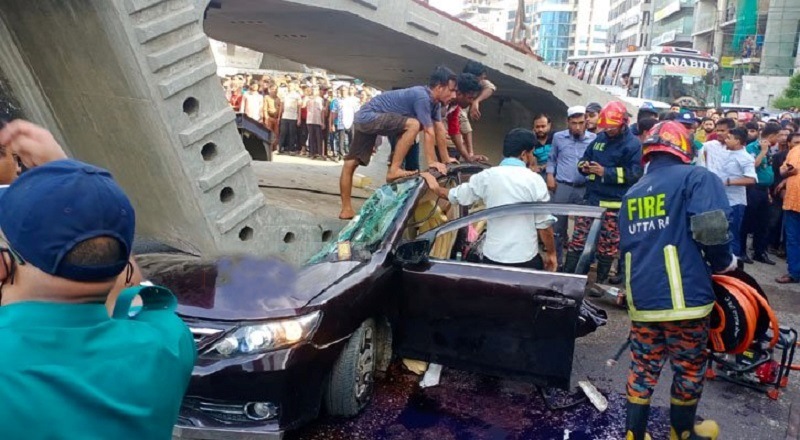 Photo: Collected
Earlier, the fire service recovered the bodies of five people around 7:30 pm and sent those to Shaheed Suhrawardy Medical College Hospital morgue in the capital.
Uttara West Police Station said, while moving the girder constructed for the project with a crane, it suddenly fell on a private car going from Dhaka to Gazipur. The private sedan was badly damaged in the accident. Later, the rescue workers recovered the bodies of five people from inside the private car.
Briefing reporters at the scene at night, Sub-Inspector Syed Monirul Islam of Uttara Fire Service said that the bodies of five people were recovered around 7:30 in the evening. Among them were two children, two women, and one man. After receiving the news, two people were sent to the hospital with injuries.