Bangladesh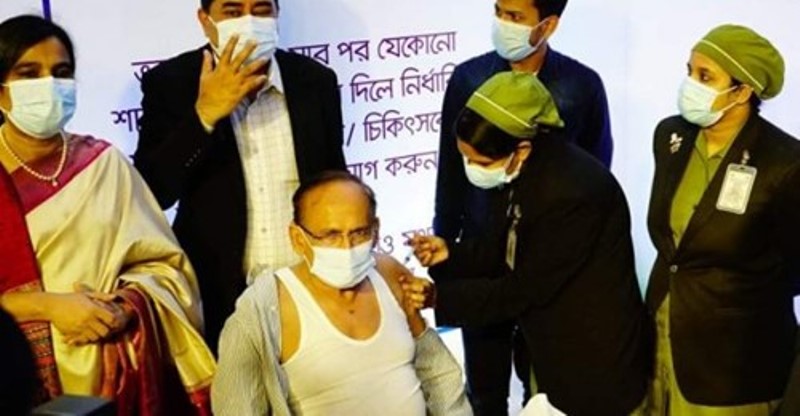 Collected
Vaccination starts in Bangladesh, 26 people get vaccinated on Wednesday
Dhaka, January 28: The coronavirus vaccination program has officially started in the country by vaccinating 26 people at Kurmitola General Hospital. Prime Minister Sheikh Hasina inaugurated the program on Wednesday (January 27) afternoon.
Although 32 people were supposed to be vaccinated on the first day, six were not vaccinated considering their age and physical condition.
Dr. Muhammad Mehedi Hasan, Assistant Professor, Department of Urology, Kurmitola General Hospital, confirmed the matter.
Five people were first vaccinated in the virtual presence of Prime Minister Sheikh Hasina.
They are Runu Veronica Costa, a senior staff nurse at Kurmitola Hospital; Physician Ahmed Lutful Nobel; Nasima Sultana, ADG, Department of Health; Traffic Police Officer Didarul Islam and Brigadier General M Imran Hamid.
Then 21 more people were vaccinated step by step.
They are Mohammad Majedul Islam, Sanjida Sultana, Mohammad Abdul Halim, Mohammad Enamul Hasan, Mohammad Hamza, Shammi Akter, Mohammad Shahjahan, Dr. Al Mamun Shahriar Sarkar, Dr. Farida Yasmin, Dr. Afroza Jahin, Dr. Arup Ratan Chowdhury, Prof. Dr. Abdul Quader Khan, Major General Mahbubur Rahman, Mohammad Abdur Rahim, Kazi Jasim Uddin, Mosharraf Hossain, Journalist Masud Raihan Palash, Mohammad Al Masum Mollah, Amirul Momenin, Miss Munni Khatun and Mohammad Ashiqul Islam.