Bangladesh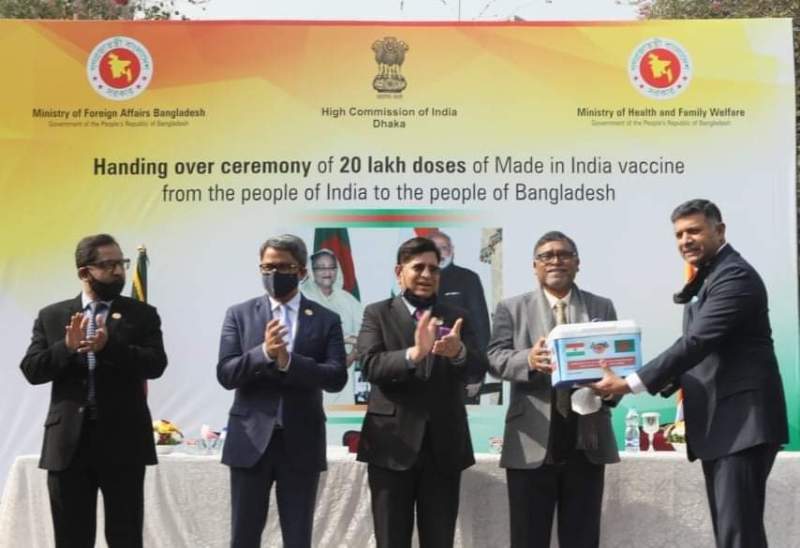 twitter.com/ihcdhaka
Vaccines are India's gift to the people of Bangladesh: Indian High Commissioner Doraiswami
Dhaka, January 22: Indian High Commissioner Vikram Kumar Doraiswami said India gives top priority to India-Bangladesh relations as part of its foreign policy. The gift of 20 lakh doses of vaccine is the largest amount ever given to a neighboring country of India. The Government of India has purchased this vaccine from its own quota for the purpose of gifting to Bangladesh.
On Thursday (January 21), the Government of India gifted 2 million (20 lakh) doses of the Covid-19 vaccine Covishield (Oxford-AstraZeneca vaccine) to Bangladesh. He said this at a function organized at the state guest house Padma in Dhaka.
The Indian High Commissioner Handed over the vaccines to Foreign Minister A. K. Abdul Momen and Health and Family Welfare Minister Zahid Maleque. State Minister for Foreign Affairs Shahriar Alam and senior representatives of the Prime Minister's Office were present on the occasion.
He further said that the vaccine was given to Bangladesh within a week of the commencement of vaccination in India following the discussions at the Virtual Summit between the governments of the two countries. India has been providing the vaccine since January 18.
Vikram Doraiswami said, today is a landmark day. As a committed partner of Bangladesh, India is happy to contribute to this historic moment. Among the many steps already taken by the two countries to tackle COVID-19 together, the gift of vaccine is the latest initiative.
He said a video conference of SAARC leaders was organized on March 15 last year at the invitation of Indian Prime Minister Narendra Modi to fight Covid-19. At the conference, the Prime Minister of Bangladesh Sheikh Hasina called upon us to cooperate through the use of combined strengths, skills and resources.
Soon after, the SAARC Covid-19 Emergency Fund was formed. Healthcare providers, administrators, etc. from Bangladesh took part in online capacity building trainings conducted by India's leading medical institutes.
The High Commissioner said that the course on Covid-19 conducted in Bengali at AIMS, Bhubaneswar was a great success, especially for the healthcare professionals from Bangladesh. The Government of India also conducted a two-day online course called 'Train the Trainer' on January 19-20 to facilitate the supply of vaccines.