Bangladesh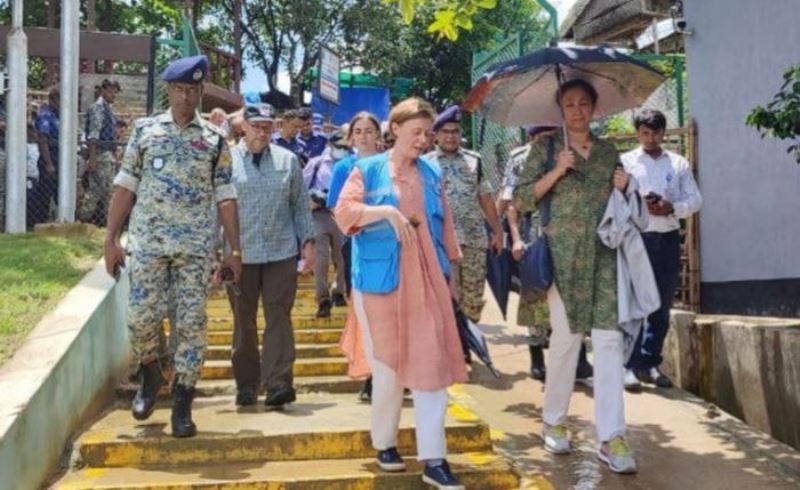 Photo: Collected
Want to return home as soon as possible: Rohingyas to Uzra Zeya
Dhaka, July 13: The Rohingya refugees of Cox's Bazar have asked Uzra Zeya, the Under Secretary for Civilian Security, Democracy and Human Rights of the US Department of State, tp arrange their quick repatriation to Myanmar.
The US delegation headed by Uzra Zeya visited some Rohingya camps in Cox's Bazar's Ukhia on Wednesday. At this time, the Rohingya demanded them to return to their country. Besides, they described the torture and oppression of the Rohingya people in Myanmar.
Rohingya organization Arakan Rohingya Society for Peace and Humanity Acting Chairman Mohammad Zobair said, US delegation including Uzra Zeya spoke to us. They also talked to Rohingya women. Women describe how soldiers burned down their villages and evacuated them in Myanmar.
He also said that we had told the US delegation on behalf of the Rohingyas - we are grateful to Bangladesh. There is adequate security in the camp. But there is not enough education system. This life seems confined to us. So I want to return home as soon as possible. The US should put pressure on Myanmar for repatriation.
Earlier, the US delegation arrived at Cox's Bazar airport on a US-Bangla private airline flight around 9 am. They were welcomed by UNHCR, IMO and RRRC office officials, district administration and law and order forces.
Later, the delegation left for the Rohingya camp by road. They reached Rohingya Camp No. 9 of Balukhali in Ukhia around 10:30 am. During this time, they visited the service and cooperation centers under the management of various organizations of the United Nations. There they talk to the Rohingyas.
After visiting the specialized hospital in Ukhia, the delegation held a meeting at the office of the Commissioner for Refugee Relief and Repatriation in the afternoon. They left Cox's Bazar around 5:30 pm.