Bangladesh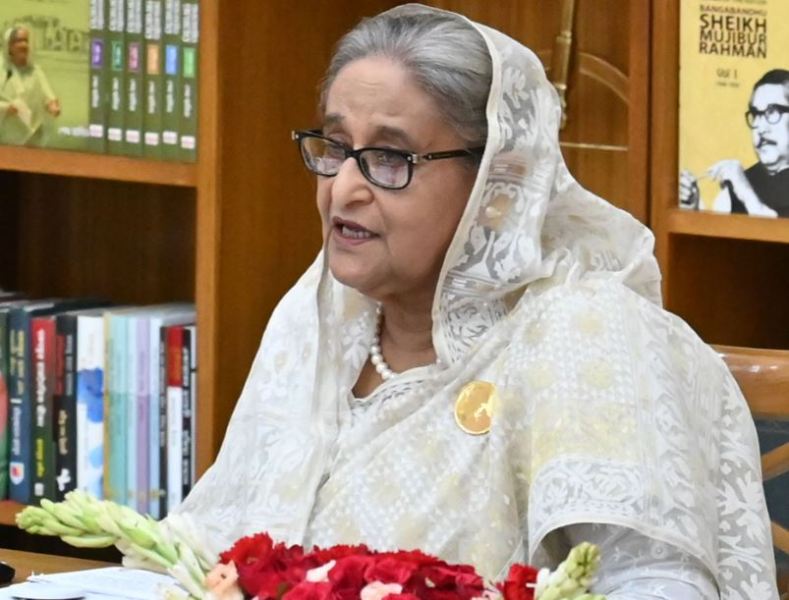 PID
We are a peaceful nation, do not want war with anyone: PM
Dhaka, July 12: Prime Minister Sheikh Hasina said, "Bangladesh is a riverine country. We need a navy to protect us, to deal with cyclones. We do not want to fight with anyone. We are a peaceful nation. We want friendship with everyone. But we also need to have the ability to defend ourselves. "
On Wednesday, he attended the commissioning ceremony of four ships of 41 PCS and four LCUs at the newly constructed Naval Base Banauja Sher-i-Bangla as the Chief Guest. The Prime Minister participated in the commissioning ceremony organized at Kalapara of Patuakhali through video conference from Gana Bhavan.
The Prime Minister said these words quoting the speech given by Father of the Nation Bangabandhu Sheikh Mujibur Rahman on the occasion of Navy Day in Chittagong on December 10, 1974.
Sheikh Hasina said, "We really do not want to go to war with anyone. Our vision is that our independence and sovereignty should be protected. For this reason, we have taken steps to develop and enrich the armed forces, including the navy, so that they become internationally standard and efficient. We are taking special steps in that direction. took."
Highlighting the various steps taken by the government to modernize the navy, the Prime Minister said that in the last 14 and a half years, the Awami League government has modernized and increased the capabilities of the navy in accordance with Forces Goal-2030 and added aviation and submarines to the fleet. Through which the Bangladesh Navy has been well established as a three-dimensional force in the world today.
She said maximum number of warships have been inducted into the Navy, naval aviation with helicopters and patrol aircraft and specialized force swads have been developed. Apart from helicopters, several warships and equipment are being procured and built to strengthen surveillance and security at sea.
Highlighting the ability to build our own ships, the head of government said, "Today we have been able to build our own ships. We want our country to move forward. Our navy has now acquired many capabilities. Bangladesh Navy has changed from 'buyer navy' (buyer) to 'builder navy.' ' has become (the maker)."
Expressing her determination to move the country forward, Sheikh Hasina said, "I can claim this, after coming to the government in 2009, this is the year 2023; today's Bangladesh has changed. Bangladesh is now digital Bangladesh. Bangladesh is self-sufficient in food. Bangladesh has got the status of a developing country. Bangladesh is more advanced. to move forward."