Bangladesh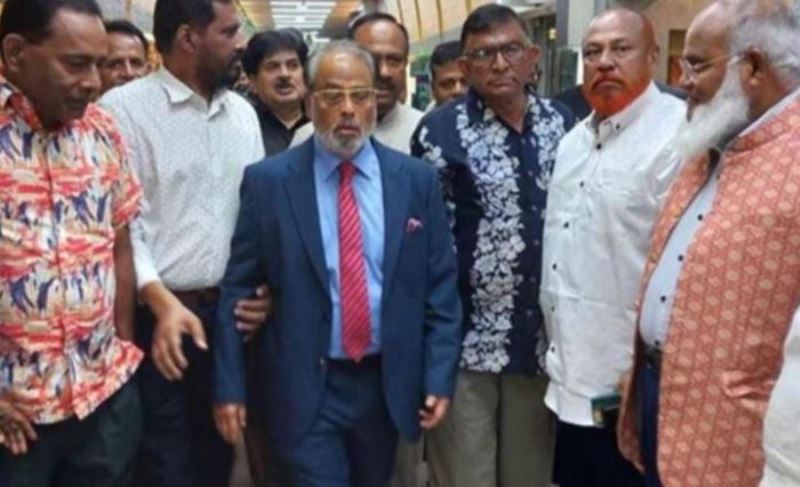 Photo: Collected
We had open discussions in India: GM Quader
Dhaka, August 24: Jatiya Party (JP) Chairman Ghulam Mohammad (GM) Quader returned home on Wednesday evening after a three-day visit to India. He expressed his inability to tell the media in detail about who met whom and what was discussed during this visit.
GM Quader said in response to questions from reporters at Hazrat Shahjalal International Airport in the evening, I went there on the invitation of the Government of India. There were open discussions with several important people. I can't say in detail about who or what the discussion was about.
Pointing out that India has a good perception of JP, he said, "I like that they have a good perception of the Jatiya Party. They consider the party as a potential party. They are confident that their relationship with the Jatiya Party was cordial and will always remain."
Noting that there was not much discussion about the politics of Bangladesh, JP chairman said, "But they want to see a good election. May it be in time. Before and after the election, there is no violence or uncertainty in the life of common people. They will be happy if it is. Because India has various investments in Bangladesh."
Regarding India's role in the disagreement between the political parties of Bangladesh over the elections, he said, "India has said - it is your own matter. You should discuss it among yourselves. They said, since you are accepted by everyone. We will be happy if you can discuss with everyone and make a good selection together."
Regarding participation in the next election, he said, "I have said this many times. The time to make this decision has not yet come. What to do, whether to go under someone or not, I can tell after a few more days. However, I have never said that I will boycott the election. We will take the measures based on the opinion of the activists whether to come to the polls or not. But we want the election to be good."