Bangladesh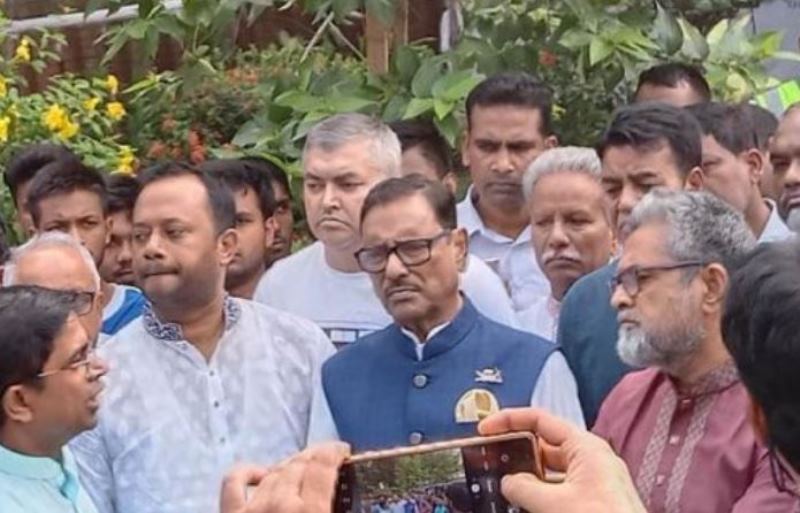 Photo: Collected
We will resist if the election is obstructed: Obaidul Quader
Dhaka, May 26: Awami League General Secretary and Road Transport and Bridges Minister Obaidul Quader said that those who obstruct the election will be resisted.
He said that the government wants to make the upcoming national elections free and fair. Those who obstruct this election must be resisted.
He said this after the Awami League paid tribute to National Poet Kazi Nazrul Islam on his 124th birth anniversary at Dhaka University on Thursday (May 25) morning.
Obaidul Quader said, "We have repeatedly said that the next national elections will be conducted in a peaceful environment, freely and fairly. We will fully cooperate with the Election Commission in organizing an impartial election."
In response to a question from journalists, the general secretary of Awami League said, "I want to say one thing clearly, those who set fire to buses and vandalize buses in the name of movement, are involved in political violence. So they have news."
Obaidul Quader said about the new visa policy of the United States, "They (the United States) said that there is no visa if the election is obstructed. Same thing with us. I will certainly resist those who will obstruct this election.
Regarding the non-sectarian spirit of poet Nazrul, the Minister of Road Transport and Bridges said, 'We want to be inspired by the non-sectarian humanist spirit of poet Kazi Nazrul Islam. Today, the communal belief, the poisonous tree of communalism, which creates obstacles in the way of building a non-communal Bangladesh, is still spreading its branches in Bangladesh. The government is working to create a non-communal Bangladesh under the leadership of Sheikh Hasina, following the ideals of Bangabandhu.