Bangladesh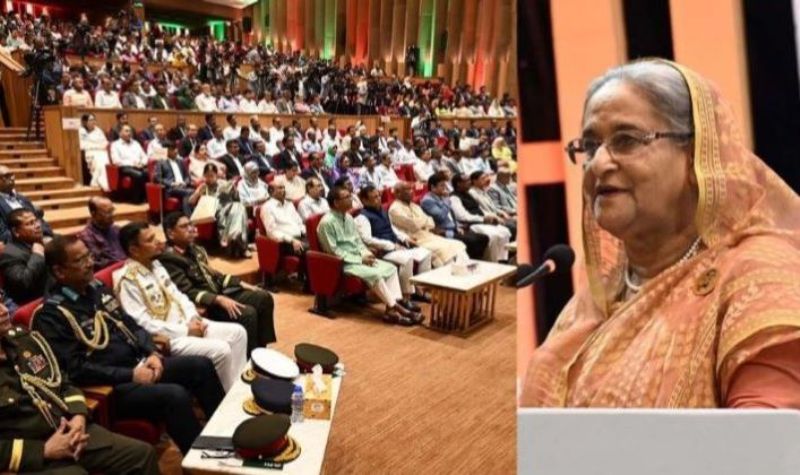 PID
We won't tolerate arson, destruction: Prime Minister Hasina
Own Correspondent, Dhaka, 31 July 2023: Prime Minister Sheikh Hasina said, "Don't be afraid if you see a little movement and struggle. There is nothing to be afraid of. The people are with us. We will not tolerate arson and destruction. It can never be accepted." She also said, "We have no objection to whatever the movement, struggle does. We will not let anyone else play with the fate of the people of the country."
She said these things at the 'Bangabandhu Public Administration Medal' awarding ceremony organized on the occasion of 'National Public Service Day' at the Osmani Memorial Auditorium in the capital on Monday, July 31.
Sheikh Hasina said, "Those who did not support our great liberation war, the enmity in their minds has not gone away. We are moving forward by overcoming it. Bangladesh will move forward. There are problems in people's lives, to overcome them, morale is needed, strength is needed, with this strength. Bangladesh will move ahead inshallah."
The head of the government said, "The father of the nation wanted the socio-economic liberation of the people of Bangladesh. The self-identity of the Bengali nation. The Bengali nation should walk with its head held high in the world court. Exploitation, deprivation, oppression were the fate of this Bengali. He sacrificed his life to change that fate."
She also said, "Prime Ministership is not a big deal. I think I have got an opportunity to serve the people. I am doing that. I am arranging how to deliver all kinds of services to people's doorsteps. Rewarding those who do good work, training officials from abroad. Bringing, these were started by the father of the nation. We have continued that."
Highlighting various initiatives of the government, the Prime Minister further said, "The community clinic we did was closed by BNP. Because, people will vote for me if they get services from here. They did not think about people. They thought about votes. It also got results. In the 2008 elections. They got only 29 seats."
Highlighting the current situation, Sheikh Hasina said, "Economically, we are not only under severe pressure, but the entire world. Developed countries are also struggling. But we have set an example to the world by fighting the coronavirus pandemic. There is economic pressure, but we have maintained economic dynamics. Those who have worked behind it, thank you all. It was possible because of your hard work."