Bangladesh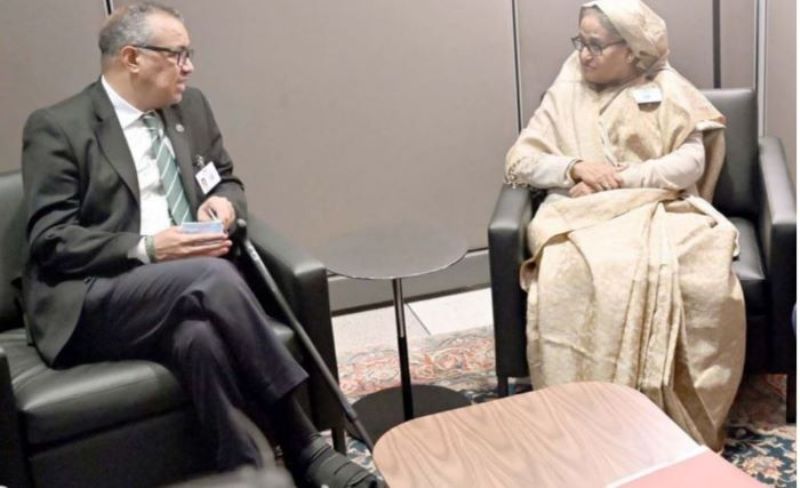 PID
WHO chief praises Bangladesh government for health development
Own Correspondent, Dhaka, 19 September 2023: Director General (DG) of World Health Organization (WHO) Tedros Adhanom Ghebreyesus held a meeting with Prime Minister Sheikh Hasina. The meeting was held at the United Nations Headquarters in New York on Monday local time. Meanwhile, Tedros Adhanom Ghebreyesus enthusiastically praised the steps taken by the Bangladesh government for overall development of the health sector to ensure health services for all.
Autism expert Saima Wazed Putul, Thematic Ambassador of Climate Vulnerable Forum and Chairperson of National Advisory Committee on Autism and Neurodevelopmental Disorders was also present in the meeting. Foreign Minister Dr AK Abdul Momen and Health Minister Zahid Maleque were also present.
Briefing reporters on the Prime Minister's day-to-day activities in New York on Monday, the Foreign Minister said, the Director General of WHO highly appreciated the government's steps to improve the overall health system of Bangladesh and ensure healthcare for all.
He also said that Community Health Clinic is an innovation of Prime Minister Sheikh Hasina. People are getting more than 30 medicines for free from there. Community clinics have helped to rapidly reduce child and maternal mortality rates in Bangladesh. Hence, it has increased the average life expectancy of people. Momen said that they told the Director General of the World Health Organization that Bangladesh wants to exchange experience and expertise with other countries.