Bangladesh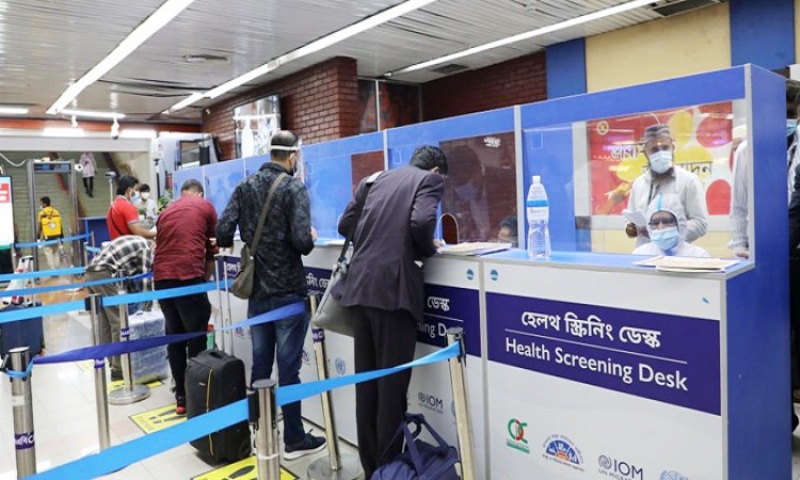 Collected
Will take another week to set up RT-PCR lab at the airport: Official
Dhaka, September 22: RT-PCR laboratories of six companies will be set up at Shahjalal International Airport in the next three days. However, it will take another week for the labs to be fully operational.
Once the laboratories is up and running, passengers will receive test report six hours before departure to the United Arab Emirates (UAE). This test can be done on a fixed fee and not on different fees.
This was informed at a meeting held at noon on Tuesday (September 21) at Hazrat Shahjalal International Airport to set up an RT-PCR lab. This information was given by several responsible officials of Shahjalal Airport, Ministry of Expatriate Welfare and Overseas Employment and Directorate General of Health Services (DGHS) who were present at the meeting.
The meeting was chaired by Prof. Dr. Nasima Sultana, Additional Director General (Administration) of the DGHS. Also present were AHM Touhid-ul-Ahsan, Wing Commander, Executive Director, Shahjalal International Airport, and officials from six organizations approved by the DGHS for setting up the RT-PCR laboratory.
An official from the health engineering department said it would take another three to four days for the laboratories to be fully operational once it is built. Regarding the examination fee, the official said that the health officials had agreed at the meeting that the same fee would be charged instead of different fees for coronavirus sampling. The organizations have agreed to this.
On condition of anonymity, a responsible official of the DGHS said that an expatriate has to undergo coronavirus test a total of four times from Bangladesh to the United Arab Emirates. Two-stage tests were performed 72 hours and six hours before departure from the country, and four more days and eight days after arriving in the UAE. It costs a lot of money. As a result, it is suggested that a uniform fee be fixed so that the expatriates can take the test at a reasonable cost.
Earlier on Tuesday morning, Chief Secretary to the Prime Minister Dr Ahmed Kaikaus visited the airport. He directed that the RT-PCR laboratories be set up inside the car parking area of ​​the airport. The labs will be set up near the DGHS desk at terminal number one of the airport.