Bangladesh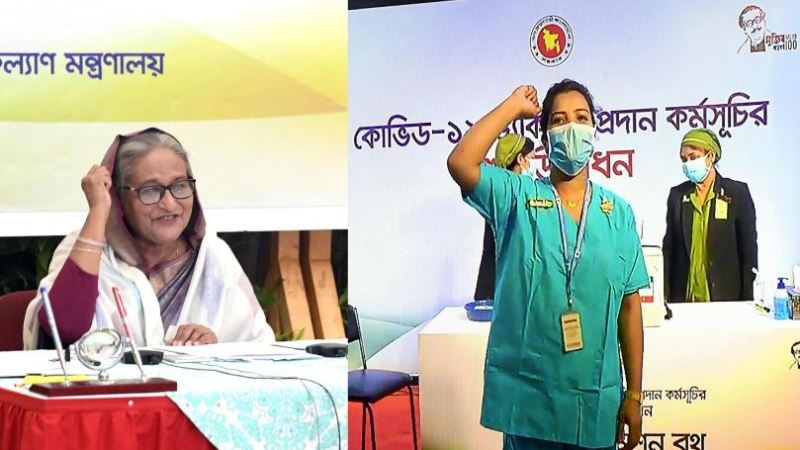 PID
Will take the vaccine after everyone has taken it: Sheikh Hasina
Dhaka, January 28: Prime Minister Sheikh Hasina has said that she will take the coronavirus vaccine after everyone has taken it.
The Prime Minister made the remarks while inaugurating the vaccination program at Kurmitola Hospital on Wednesday (January 27). The Prime Minister expressed her excitement over the vaccination activities. She joined via video conference from Ganobhaban.
Prime Minister Sheikh Hasina said, "Many countries of the world have not yet started vaccinating against coronavirus. We started in this densely populated country. This is a historic day. Inshallah, we will overcome this pandemic."
Sheikh Hasina said, "Everything has come to a standstill in this pandemic. This coronavirus has spread extreme panic. People did not get to perform the final rites of their relatives. None of the relatives came forward. We were by the side of the people in such a crisis. We have given special incentives to maintain socio-economic dynamism. We have taken all the initiatives for health protection. We are also giving vaccines before many countries.
"We are committed to ensuring basic human rights, such as health care," she said. "Doctors, nurses, technologists, administration, police and Awami League and its allies have stood by the people in committees. The army, BGB and Ansar VDPO were by the side of the people. Many thanks to all who came forward."
The Prime Minister further said, "We have also brought the Oxford vaccine quickly. In the tripartite agreement, we will get 34 million vaccines. Seven million are already ready. In this case, we did not skimp on the allocation of money. we have already allocated Tk 1,000."
Sheikh Hasina said, "We are carrying out vaccination activities in accordance with the views and discipline of the World Health Organization. My desire was to inaugurate this work very closely. But that did not happen. I have to live in captivity because of Corona."
With the inauguration of the programme by the Prime Minister, five people were vaccinated at Kurmitola Hospital. When Runu Veronica Costa, the first to get vaccinated, greeted the Prime Minister before taking the Vaccine, Sheikh Hasina asked her, "Aren't you scared?" Runu replied, "No." Then the Prime Minister said, "You are very brave. Good luck to you. You have to serve more patients."