Bangladesh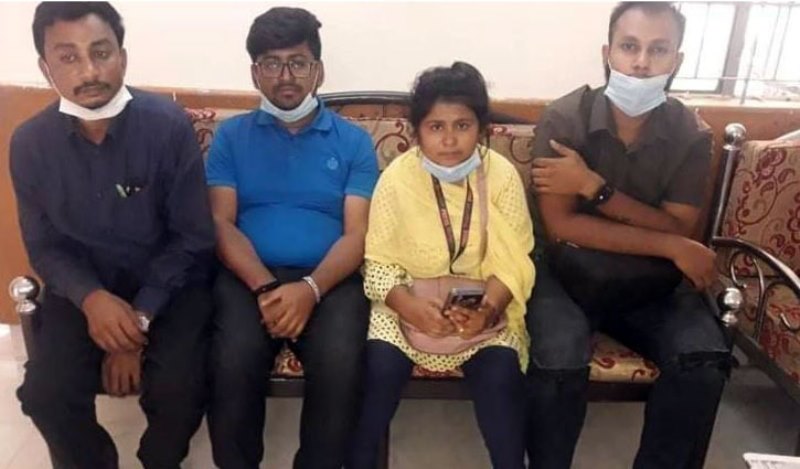 Collected
Woman among four detained in cocktail bomb case
Dhaka, May 7: Police on Thursday detained three men and a woman for questioning on suspicion of involvement in the incident after recovering five cocktail bombs from a warehouse at Barmi Bazar in Gazipur's Sreepur upazila.
The journalists were identified as Md Tanvir Ahmed, 40, son of late Sajjad Ali of Balubari village in Dinajpur Sadar upazila, Sheikh Mahmudul Hasan, 31, son of Sheikh Md Ruhul Amin of Afalkati village under Bakerganj police station of Barisal and Mashiur Rahman of TTI Lalpur village of Lalpur police station in Natore. Rahman, 25, and Rahima Akter Mukta, 24, daughter of Basirul Haque Badal of Gayanpara village under Patharghata police station in Barguna district.
The victim Kafil Uddin said, "At around 4.30 pm, a stranger arranged a bargain to buy lime. At that time, he kept a bag in my shop. He said he would come after 20 minutes and pick up the lime and bag. Half an hour later, three young men and a woman came to the shop and identified themselves as journalists and started searching the facility."
"Later, they searched the bag left by the man and started taking pictures saying that they had found cocktails in it. At one stage, they threatened me and demanded Tk 8 lakh. At that time, other traders in the area came and crowded in and wanted to know the matter."
He alleged, "With the help of local journalist Md. Rakibul Hasan, they left the cocktail in the shop to trap me and demand money. Later, when local traders came forward, Rakib left the scene. At that time, someone reported to the police that cocktails had been found."
Sub-Inspector (SI) of Sreepur Police Station Nayan Bhuiyan said that after receiving the news on National Service Number 999, the entire incident was reported to the senior officers. Later, senior police officials reached the spot and interrogated them. They were taken into police custody due to inconsistency in their statements.