Bangladesh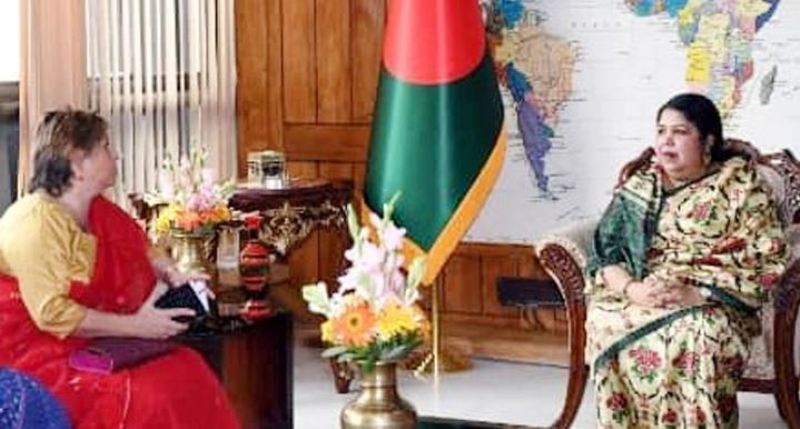 Photo: PID
Women represent 21% of the total members of Parliament
Own Correspondent, Dhaka, July 6: Speaker of the Jatiya Sangsad Dr. Shirin Sharmin Chowdhury said Father of the Nation Bangabandhu Sheikh Mujibur Rahman included reserved seats for women in the constitution in 1972. At present the number of reserved women seats is 50. The representation of women in the 11th Jatiya Sangsad (National Parliament) is 21 percent.
The speaker was speaking on Tuesday (July 5) when a delegation of women from different missions came to pay a courtesy call. The delegation led by Canadian Ambassador to Bangladesh Lilly Nicholls visited the Speaker's Office.
At the same time, Dr. Shirin Sharmin Chowdhury said that equal rights of men and women have been ensured in the constitution. Members of Parliament enjoy the same benefits as those elected by direct popular vote and against reserved seats.
During the meeting, the delegation discussed various issues related to mutual interests, economic and political empowerment of women, participation of women in parliamentary activities.
The Speaker said the women's policy has been formulated under the leadership of Prime Minister Sheikh Hasina. The Prime Minister has reserved the posts of women members at the union level and women vice-chairmen at the upazila level, which is a milestone in consolidating grassroots women leadership.
She said the rate of extreme poverty in Bangladesh has come down from 40 percent to 21 percent. However, most of the extremely poor are women.
Shirin Sharmin said the present government is providing various allowances including old age, abused husbands, widows and maternity allowances under the social security net to ensure economic empowerment of women. Bangladesh today is a role model in women empowerment.
Mentioning the exception of women's development in Bangladesh, the delegation said it is important to implement necessary laws and policies for the full development of women. They praised Bangabandhu's visionary leadership for ensuring women's empowerment in the constitution 50 years ago. At the same time, the delegation noted that the progress of political empowerment of women in Bangladesh is satisfactory.