Bangladesh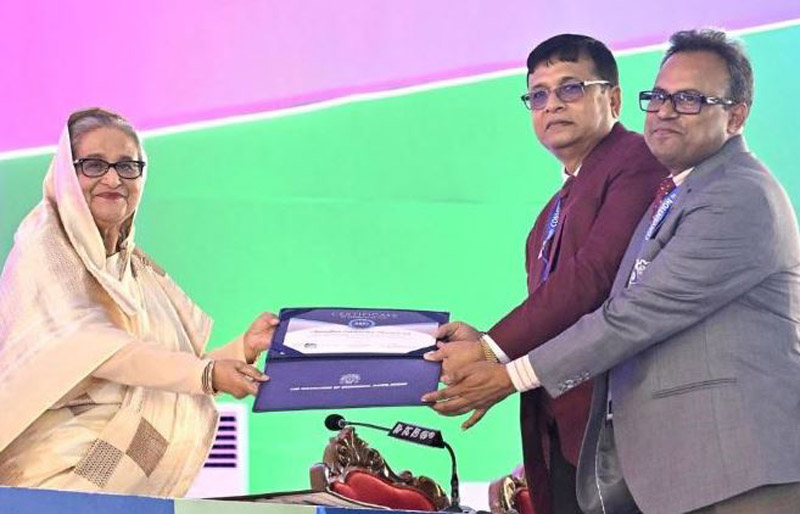 PID Bangladesh
Won't buy anything from embargoed countries: PM
Dhaka: Prime Minister Sheikh Hasina has said that nothing will be bought from any country that imposes sanctions against Bangladesh.
She said, "Currently, there is a trend of banning, these bans have been given to those with whom we eradicate militancy. We have made a decision. I have said that I will not buy anything from those who will ban it.'
The Prime Minister also said, 'What will you do to me? My parents, brother were all killed. I have nothing left to lose. I just want to take my country forward'.
The prime minister said these while inaugurating the five-day 60th convention of the Institution of Engineers, Bangladesh (IEB) at the IEB premises in the capital on Saturday, with the theme 'Innovative Engineering in the 4th Industrial Revolution'.
On December 10, 2021, the US Treasury Department imposed sanctions against Bangladesh's elite force Rapid Action Battalion (RAB) and seven of its officers for alleged serious human rights violations. Bangladesh strongly denied the allegations and instead pointed to RAB's remarkable success in the fight against terrorism and narcotics.
In the conference, Prime Minister Sheikh Hasina termed engineers as the main force of the country's development and said, "Bangladesh's development should continue and this is my only request to you." Insha Allah, no one will be able to stop the development journey of Bangladesh.' He said that his government never accepts any project with huge amount of money given by any country or organization; Which does not bring welfare for the country and people.
Mentioning that the engineers are working relentlessly for the development of the people of the country, the Prime Minister said that Bangladesh is moving towards development as the Awami League government is in charge and he expressed hope that everyone will be sincere; So that this progress of development can be continued.
"Our goal is to make the country a "Smart Bangladesh" by 2041," said Sheikh Hasina, who will implement "Delta Plan-2100"; So that no one in the country suffers anymore and that generation after generation will have a dignified and better life. He said, "I hope, you (engineers) will work keeping this in mind."
Prime Minister Sheikh Hasina said that the government has taken all kinds of preparations to deal with the cyclone Mokha. He said, "The cyclone is approaching. We have prepared cyclone centers. I have also made all kinds of preparations to deal with the storm.