Bangladesh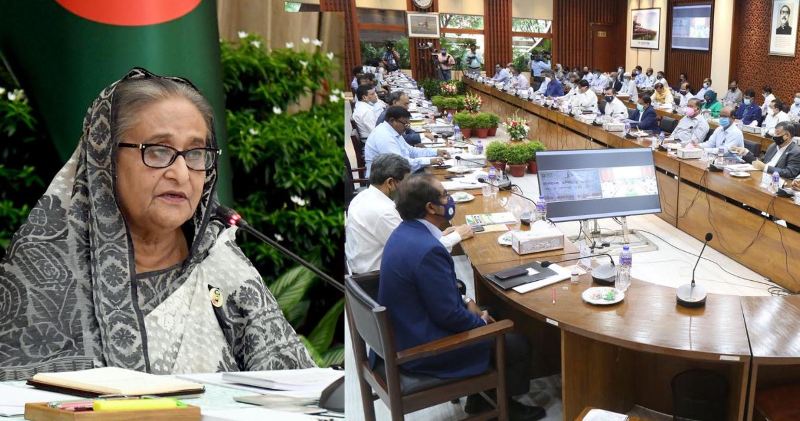 PID
Won't tolerate corruption even after paying such high salary, PM Hasina tells govt. employees
Dhaka, August 19: Adressing government employees, Prime Minister Sheikh Hasina has said her cabinet won't tolerate any corruption even after paying such high salaries to them.
"We want to establish good governance in Bangladesh. Since we are giving a lot of opportunities, progress is being made economically, now we will not tolerate any kind of corruption. We have to work with that in mind," the Prime Minister said in a meeting of the secretaries held at the NEC conference room of the Planning Department of Sher-e-Bangla Nagar in the capital through video conference from Ganobhaban.
At a meeting of secretaries (virtual) on Wednesday (August 18), the Prime Minister warned government officials and employees about corruption, citing a massive increase in salaries and other benefits.
"Corruption is like a disease, we need to be free from this disease. You have to take a tough stand on that. Wherever you see corruption, you have to take action. Those who do good will surely be rewarded. But action must be taken against those who are involved in corruption," she said.
"We want an efficient service-oriented and accountable administration, which can accelerate the development of the country. That is the most effective.
"Nothing else, that is what I want. The things we want to do should be implemented quickly and with proper quality. That is what we want. In order for development projects to be properly implemented, these issues need to be looked at by all. I hope you will see that in particular," she added.
"This is what I want you to do with sincerity .... If there are problems, solve the problems. Pay special attention to that. In no way should there be stagnation in work," she said at the meeting.
The Prime Minister said, "We have increased the salaries of all government officials and employees. We are arranging accommodation. So that they can live and work well. If you can live well, you do your job well."
She said, "We are giving festival allowance. Pohela Boishakh is our Bengali New Year, we are giving New Year allowance. We are providing easy access to credit for home construction. We have made arrangements to buy a car. We have arranged a separate allowance for car maintenance. We have created these opportunities."
Sheikh Hasina said, "We have multiplied the benefits that a government official gets when he retires or goes to PRL. We are making arrangements to get pension easily. All salaries, allowances and pensions are now being paid digitally through EFT. Everyone is getting the salaries while at home," she said.