Bangladesh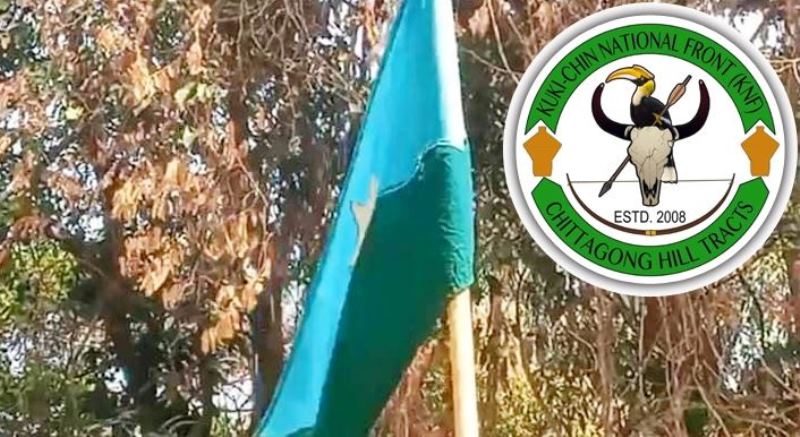 Photo: Collected
Youths getting militant training from KNF
Own Correspondent, Dhaka, Oct 17: Recently, some youths, who left their homes, are getting millitant training in the remote mountains bordering India and Myanmar. The new militant outfit is being trained by an armed group called the Kuki-Chin National Front (KNF).
According to intelligence sources, the organization, which has suddenly raised its head in the hilly regions of the country, is now trying to emerge in a terrifying manner. They are trying to implement the blueprint to separate the territory of independent Bangladesh. Pahari organization 'KNF' has already made its own flag. Created a fictional map. With the aim of implementing these and establishing a separate state or nation, a trained own force has been formed consisting of men and women of the small ethnic groups of the hills, who have been given commando training on the model of the military. They have different uniforms, and different batches based on rank. The uniform carries its own flag.
Recently, RAB published a list of 55 youths from 19 districts who left their homes in the name of voluntary migration due to extremism. The full names and addresses of 38 of them have been published.
According to RAB, the militant organization 'Jamatul Ansar Fil Hindal Sharqiya' was established in 2017. The Bengali meaning of which is Jamaatul Ansar of Eastern Hind. Young people left home on the call of this organization.
RAB said that at least 38 youths from different places including Comilla are currently in remote hills under this KNF. Army and RAB are conducting a joint operation in Chittagong Hill Tracts after intelligence information that important and sensitive places of the country including the capital Dhaka may be the target of their attack.
It is known that KNF did not make its debut as an armed organization in the hills. However, in the meantime, they have shown their 'ability' and attacked the Chittagong Hill Tracts Jana Sanhati Samiti (JSS). It is being said that they are a rival group of JSS. After the recent attack and killing of the JSS leader, the KNF is being discussed in the hills.
At one time, the news of a militant organization building a hideout in Huzi Hills came to the media. One of the purposes of forming this group of Afghan returnees was to participate in the fight on the side of the Rohingya Muslims in Myanmar. In the 1990s, Huzi's relationship with the Rohingya Solidarity Organization (RSO) and the Arakan Rohingya National Organization (ARNO) was also discussed.