Column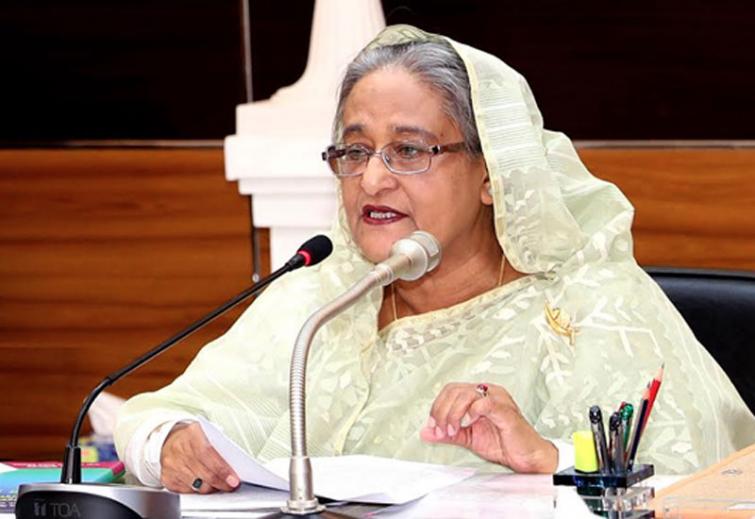 Accolades of Prime Minister Sheikh Hasina
World leaders are happy with Prime Minister Sheikh Hasina's efforts aimed at turning Bangladesh into a middle- income country by 2021 and a developed one by 2041. Many international organizations including the United Nations had accoladed her with prestigious awards in recognition of her efforts in this direction.
On 26 September, 2019 the United Nations Children's Emergency Fund (UNICEF) conferred the award 'Champion of Skill Development for Youth' to Prime Minister Sheikh Hasina for Bangladesh's great success in youth skill development.
On 23 September, 2019 Prime Minister Sheikh Hasina received the prestigious 'Vaccine Hero' award in recognition of her outstanding success in vaccination to immunize children.
On 16 September, 2019 Dr Kamal Smriti International Excellence Award was conferred upon Sheikh Hasina in recognition of her commitment to a close and mutually satisfying
Bangladesh-India relations, welfare of the people, particularly women and children, and international peace and cooperation.
On 8 March, 2019 Sheikh Hasina won Lifetime Contribution for Women Empowerment as well as Dynamic Leadership (in South Asia Region) Award.
On 28 September, 2018 the Inter Press Service News Agency conferred International Achievement Award upon the Bangladesh Prime Minister for her exemplary humanitarian response by giving shelter to more than one million Rohingya refugees.
On 28 September, 2018 the Global Hope Coalition, a network of three not-for-profit foundations based in New York, gave Sheikh Hsina '2018 Special Recognition for Outstanding Leadership Award' for her 'far-sighted leadership during the Rohingya crisis'.
On 27 April, 2018 Prime Minister Sheikh Hasina received the Global Women's Leadership Award at an annual international gathering of women influencers and opinion leaders in Sydney, Australia. Hasina was honoured by the 2018 event for her 'outstanding leadership in advancing women education and women entrepreneurs in Bangladesh, Asia and Asia-Pacific region.
On 21 September 2016 Global Partnership Forum presented Sheikh Hasina 'Agent of Change Award' for her extraordinary contribution to women empowerment. While accepting award Hasina said the honour is recognition for Bangladesh's women as they are the true agents of change.
On 21 September 2016 the UN-Women recognized Prime Minister Sheikh Hasina as 'Planet 50-50 Champion' for her outstanding contribution in empowering women. The UN-Women conferred her the award at a high level reception at UN Plaza at the UN Headquarters.
On September 14, 2015 the United Nations Environment Programme (UNEP) declared Prime Minister Sheikh Hasina as one of the winners of the 'Champions of the Earth Award' in the 'Policy Leadership' category. This award is the highest environment accolade that the UN can confer upon outstanding individuals and organizations. UNEP referred to Sheikh Hasina as an outstanding leader on the frontline of climate change.
On 28 September 2015 Sheikh Hasina received 'ICT Sustainable Development Award' from the International Telecommunication Union (ITU) in recognition to her contribution towards harnessing Information Communication and Technologies for Sustainable Development.
On 21 November 2014 Sheikh Hasina received the United Nations 'South South Cooperation Visionary Award' for her outstanding contribution in expanding information technology, ensuring health care at grassroots level, improvement of the society's distressed people through safety net programme and success in poverty alleviation.
September 8, 2014 Prime Minister Sheikh Hasina received Tree of Peace, a memento from UNESCO,in recognition of her outstanding contribution to girls' and women's education . While handing over the memento to her, the UNESCO Director General said Sheikh Hasina is a strong advocate on world stage in girls' and women's education, 'a certain prerequisite for political and economic empowerment of women'.
On June 8, 2013 Prime Minister Sheikh Hasina received Rotary Peace Prize from Rotary International at Platinum Jubilee of Rotary International District 3280. It was a recognition of her endeavor to promote peace among communities and across the globe.
On June 13, 2013 Prime Minister Sheikh Hasina was invited by the Director General of Food and Agriculture Organisation (FAO) Jose Graziano De Silva for halving the incidence of hunger well ahead of the target period set on 2015. Health Minister Abdur Razzaque received the award on behalf of the Prime Minister.
On September 19, 2011, UN Economic Commission for Africa, Permanent Mission of Antigua and Barbuda to the United Nations, International Telecommunications Union (ITU) and South-South News jointly presented South-South award to Sheikh Hasina in New York for her innovative idea to use information communication technology for the progress of health of women and children.
On September 9, 2010 Prime Minister Sheikh Hasina received the United Nation's Millennium Development Goal (MDG) Achievement Award (child mortality) in New York for reducing child mortality rate by 50 percent.
On January 12, 2010 Sheikh Hasina received 'Indira Gandhi International Award for Peace, Disarmament and Development.
Global Alliance of Vaccines and Immunization (GAVI) recognized Bangladesh for best immunization performance among six populous countries which became eligible for GAVI's support. Bangladesh showed leadership in reducing the number of unimmunized children by 52 percent during last four years which was hailed as a remarkable achievement.
On June 25, 2006 Sheikh Hasina received Mother Teresa Lifetime Achievement Award for her unmatched contribution in public life. It was instituted by Mother Teresa International and Millennium Award Committee.
On April 9, 2000 Sheikh Hasina received the Pearl S Buck Award in recognition of her vision, courage and achievements in political, economic and humanitarian fields. The award was instituted by Randolph Macon Women's College of USA.
On August 2, 1999 the UN Food and Agriculture Organization (FAO) conferred the prestigious CERES Medal to Sheikh Hasina in recognition of her tireless fight against poverty and hunger.
In 1998 Sheikh Hasina received UNESCO's Houphouet-Boigny Peace Prize for 1998 for bringing peace through ending the 25 years of conflict with the tribals in Chittagong Hill Tracts with political courage and statesmanship
On April 12, 1988 the All-India Peace Council presented the Mother Teresa Award to Sheikh Hasina.
MK Gandhi Foundation of Oslo, Norway, presented Sheikh Hasina the 'MK Gandhi Award' in 1998 for her contribution towards promotion of communal harmony, understanding, non-violence and growth of democracy at the grass-roots level in Bangladesh.