Column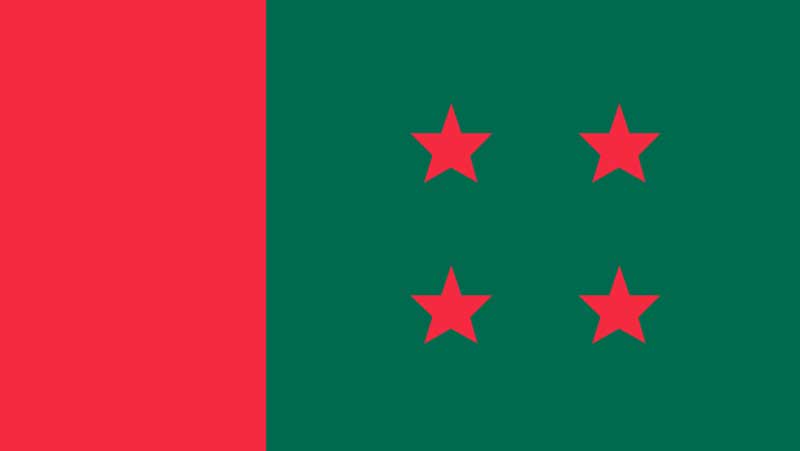 Awami League confident of returning to power
Speaking at the last session of the tenth parliament on October 30, Prime Minister Sheikh Hasina sounded confident of Awami League's return to parliament. She said it was necessary to serve the country and continue the ongoing developmental projects.
There are reasons why Sheikh Hasina appears so confident of her party's prospects in the next election. Awami League has been in power for ten years. During this period the growth rate of Bangladesh has been extremely high. The country has registered one of the highest growth rates in the world, at 7.8 per cent this year.
In a decade the party has been able to raise its status from a least developed country (LDC) to a lower middle-income country ready for graduating from LDC status by 2024 with a drastic cut in poverty. The government's long-term perspective plan 2010-2021 and the sixth and seventh five-year plans were the driving force behind this success.
During the period the country saw 6.6 per cent average economic growth against 5.1 percent global average while the growth rate climbed to 7 per cent in the last three consecutive years. In the FY 2018 the growth rate soared 7.86 per cent, one of the world's fastest rates, while per capita income rose from $ 759 to $ 1,751 in a decade.
During the ten year period the size of the total budget increased more than five times from Tk 890 billion to Tk 4,645 billion while foreign exchange reserve increased more than four times from 7.5 billion to $ 32.2 billion.
A major development indicator was lowering poverty. Poverty has come down to 21.8 per cent in 2018 which was 31.5 per cent on 2009.
Bangladesh has witnessed the rise of a vibrant middle class and shrinking of people living below poverty line. Currently less than 12 per cent live below the abject poverty line, a remarkable change from the 2001-06 (BNP rule) when this number was 42 per cent.
The lives of 162 million people are being transformed in to a digitalized knowledge-based society, thanks to the present government's 'Digital Bangladesh' vision. Bangladesh now tops the South Asian countries in gender parity and ranks 7th globally in women empowerment (Global Gender Gap Report 2016).
The country's agriculture sector witnessed major development with attaining self-reliance in meeting demands of staple food grains.
A shift from once agriculture-driven country to a more service and industry-oriented economy has led the country to economic prosperity with dependence on foreign aids and imports decreasing.
Bangladesh is now the 44th largest world economy in nominal terms of GDP and the 33rd largest in terms of purchasing power parity. The country is also classified among the next eleven emerging economies and a frontier market.
Remittance inflow nearly doubled to $ 14.98 billion in 2017-18 Financial Year from $ 7.9 billion in 2007-08 Financial Year. FDI inflow increased from $ 961 million to $ 2,454.8 million during the period. The country has made a rapid progress in terms of human development. Bangladesh has been placed at medium human development country as its Human Development Index (HDI) increased from 0.535 in 2009 to 0.608 in 2017. Analysts believe human development policy strategy and chanelling of huge resources on relevant sectors, especially education, health and skill enhancement, helped achieve this.
The country's literacy rate increased to 73 per cent in 2018 whereas it was 46.66 per cent in 2008. Average life expectancy rate has also improved from 67.2 years in 2009 to 71.6 years due to increased spending on health and social sectors.
Meanwhile the government is implementing mega projects under the banner of fast-track projects. Once the projects are implemented most of the infrastructure related problems will come to an end. The projects being directly supervised by the Prime Minister on monthly basis include construction of Padma Bridge, Padma rail link, Rooppur Nuclear Power Plant, Matarbari coal-fired power plant cum deep sea- port, Pyra deep sea-port project among others.

The list of big things that happened during the Awami League rule can go long. Just to mention a few; the country is in the process of graduating from a least developed country. It has achieved growth rate of over 7 per cent in the last couple of years and attained electricity generation capacity of around 20,000 mw from 4,942 mw in 2009. Besides, infrastructural development has been taking place at a break-neck speed, militancy has been checked with an iron fist, and last but not the least, the war criminals have been brought to justice.
The people of the country are now convinced that Awami League can give them socio-economic prosperity and fulfill their expectations. They are confident that Awami League will be able to attain the remaining goals to build Bangladesh as a hunger and poverty-free nation.
The people have demonstrated their desire in the 2008 and 2014 elections by voting Awami League to power. They are getting its benefit. The country will continue to tread the path of development and move ahead if Awami League continues to remain in power.