Column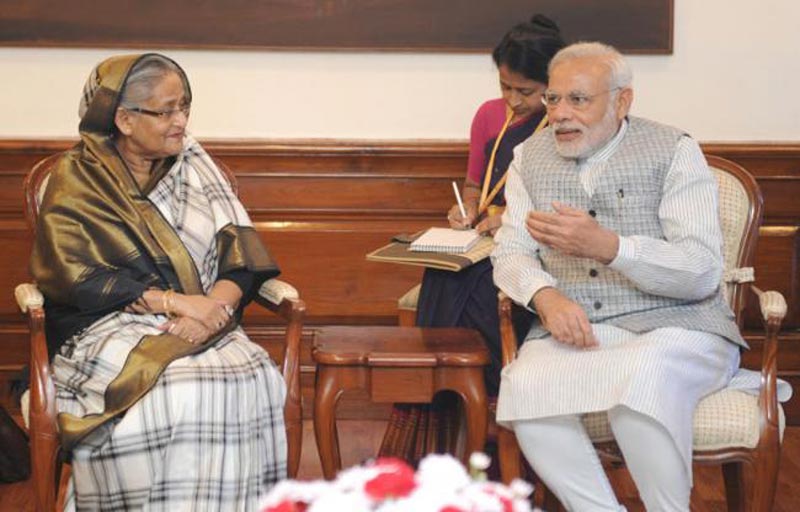 Bangladesh- India strategic alliance
During the period from 1972 to the murder of founding father of Bangladesh Sheikh Mujibur Rahman on August 15, 1975, the relationship between Bangladesh and India reached a very high level. Thereafter Bangladesh came to be ruled by military dictators Gen Ziaur Rahman and his successor Gen HM Ershad, followed by Gen Ziaur Rahman's widow Khaleda Zia. All the three were politically bankrupt and they thrived on anti-India rhetoric for the next twenty one years. Gen Ziaur Rahman even used the state machinery to provide sanctuary to the North East Indian insurgents inside Bangladesh with active cooperation of Pakistani intelligence agency ISI.
When Khaleda Zia assumed power in 1991 the relationship between the two countries took a nosedive. One of her most powerful ministers audaciously announced in the Parliament that the North East Indian secessionists were freedom fighters and it was the moral duty of Bangladesh Government to help them in the same way as India did to the Bangladesh freedom fighters in 1971. He not only wanted Bangladesh to be an accessory in creating unrest in India but also compared Bangladesh liberation war to a secessionist movement.
Indian insurgent groups such as ULFA found safe haven in Dhaka, thanks to the active support extended by Khaleda Zia government. During Khaleda Zia's second term (2001-06) things deteriorated further when her elder son Tarique Rahman, with help of Bangladesh state machinery, opened routes for safe supply of arms and ammunition through Bangladesh for use by the Indian insurgent elements.
Chittagong arms haul case has proved that the north east based Indian insurgents including ULFA thrived with ISI backing during the BNP rule (2001-06) in Bangladesh. During this period the Bangladesh state machinery continued to indulge in activities endangering India's security by actively supporting and assisting the ULFA that operated with impunity in Bangladesh with ISI backing and patronization. The Bangladesh government support took the form of sanctuaries, safe routes for infiltration and exfiltration, providing travel documents to the insurgent leaders to visit destinations outside Bangladesh, arms and ammunition, training facilities for landing of arms consignments and their transportation to various places over land routes.
During the long period stretching from 1975 when Sheikh Mujibur Rahman was killed to 1996 when Awami League led by Sheikh Hasina formed the government for the first time, ISI established an extensive network across Bangladesh with active cooperation of Bangladesh government and Dhaka became the nerve center of ISI activities.
According to a report in the UAE- based daily Khaleej Times, former ISI chief Gen Assad Durrani disclosed in March 2012 before Pakistan Supreme Court that the ISI had been sponsoring insurgency in North East India and that it paid Rupees 50 crore to BNP leader Khaleda Zia for the Parliamentary election in Bangladesh in 1991. Although Durranni retracted the statement later, the fact remains that the ISI has been complicit with ULFA's subversive activities to destabilize India. Following international outcry over Pakistan's involvement in instigating insurgency in Kashmir, ISI diverted its anti-India operations through Bangladesh.
Bangladesh was being viewed as a hot destination by the ISI in its attempt to wage a full-fledged battle against India. ISI wants North East India to remain in perpetual instability so that it becomes easy for Pakistan to intervene and sever north eastern part from the rest of India, thus fulfilling Pakistan's long-cherished desire to avenge its defeat and subsequent loss of its eastern part in 1971.
It was in 1996 when Sheikh Hasina formed Government for the first time that things began to change. She began uprooting the nexus of Indian insurgents from Bangladesh soil. As the first tenure of Sheikh Hasina's rule was devoted to putting Bangladesh on the track of development and good governance and the trial of the killers of her father Bangabandhu Sheikh Mujibur Rahman, making the north eastern states of India safer for the inhabitants was always on her agenda. But unfortunately when her party Awami League could not win the election in 2001, things vis-à-vis the security of North East Indian states again went back to square one.
Thereafter when Sheikh Hasina once again formed the government following a landslide victory of Awami League in the national election in 2008, the relationship between the two countries Bangladesh and India started scaling new heights. During the first tenure of Sheikh Hasina's government, one of the most remarkable achievements was signing of the historic Ganga water sharing accord, a problem that had been hurting the ecological balance of Bangladesh due to an inequitable share of the Ganga waters. This would not have been possible if the then Indian government headed by Deve Gowda had not taken a pragmatic approach to solving the problem.
However, many of the long outstanding problems that had existed since the partition of India in 1947 were resolved during the rule of Indian Prime Minister Narendra Modi, the most important of these being strengthening connectivity between the two countries through resuming the long suspended rail , road and waterway links. The exchange of enclaves and the long standing border disputes were also solved and the Indian Parliament showed a rare gesture of good-will when both houses of the Indian Parliament unanimously voted to ratify the Mujib-Indira accord of 1974 agreeing to exchange adversely located enclaves and demark the boundaries.
Although most of the bilateral disputes between the two countries have now been resolved, Teesta river water sharing continues to remain a nagging problem. The Indian Prime Minister Narendra Modi has time and again indicated that the problem will be resolved during his tenure. He pointed out that India works on a federal system and does not take any decision bypassing the concerned state government. West Bengal government which is a stakeholder has to be convinced before taking decision on the Teesta water sharing.
The bilateral ties between the two countries have been witnessing steady and amazing improvements as a result of which both the countries are benefitting immensely. The ties have reached such extraordinary heights that international relations analysts and diplomats branded it as a role model for the rest of the world especially in terms of bilateral ties between two neighbours. Both the countries have improved not only their diplomatic ties but also deepened their bonds on all fronts including security and border management, trade, commerce and investment, connectivity, energy and power, space, developmental projects, culture and people-to-people exchanges. For the sake of deepening their ties, the two countries have signed about 100 agreements in the last couple of years. Most of these agreements are not merely renewal of previous agreements but also initiation of cooperation in high technology areas such as space, civil and nuclear energy, IT and electronics, cyber-security and blue economy to name a few.
There is much that unites the two countries – a shared history and common heritage, linguistic and cultural ties, passion for music, literature and the arts. A staunch ally and steadfast partner in Bangladesh will stand India in good stead against the mischievous designs of the Pakistan army and ISI directed at fomenting cross-border extremism in the region.