Column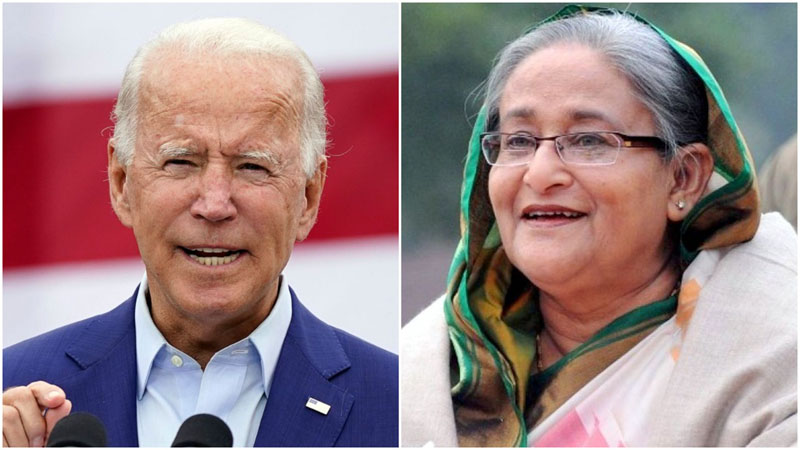 Wallpaper Cave
Bangladesh left out of Biden's democracy summit
Dhaka: From a list of 110 countries that are invited to the US President Joe Biden's virtual Summit for Democracy, Bangladesh has been left out.
Among the South Asian countries, India, Pakistan and Nepalare invited to the conference scheduled for 9-10 December.
Afghanistan and Sri Lankaare the other two South Asian countries, which along with Bangladesh could not makeit to the list.
While Afghanistan's exclusion was expected, Pakistan's inclusion andBangladesh's exclusion have surprised many. From South Asia, Bhutan, aconstitutional monarchy that holds regular elections, is another surprising exclusion.
The summit, according to the US state department's statement, will revolve aroundthree key themes: defending against authoritarianism; addressing and fightingcorruption; and promoting respect for human rights. If these are the criteria, it is asurprise that Bangladesh should have been left out.
In fact several Indian media outlets have recently criticised USA's decision to notinclude Bangladesh in Joe Biden's Summit for Democracy. Dubbing Bangladesh'sexclusion "curious", Times of India wrote, "It's clear that American interests in variouscountries, regions and other stakes played a large role in making of the guest list."Bloomberg Quint referred to the summit as "South Asian Diplomatic Flub."2America's main rivals China and Russia are not on the list.
Turkey was also missingfrom the list. And most troubling is the fact that Pakistan has been invited to thesummit. Interestingly, Egypt, Saudi Arabia, Jordan, Qatar, and the UAE, which areallies of Washington have been left out from the list of invitees to the DemocracySummit because the US considers them to be countries 'woefully lacking indemocracy.
Does the US now officially consider Bangladesh's democracy index to beat par with the above mentioned authoritarian regimes?' Among the countries of theMiddle East, only Israel and Iraq will attend the online conference. Biden has invitedBrazil even though it's far right president Jair Bolsonaro has been criticised as havingan authoritarian bent and was a firm supporter of Donald Trump.not one of the fiveCentral Asian republics merited an invitation.
Further the exclusion of BD from the virtual Summit for Democracy came within a weekof a top South and Central Asian affairs bureau deputy assistant secretary for public. Bangladesh is today the world's second-largest clothing exporter behind China.Bangladesh has achieved rapid and spectacular improvements in many socialdevelopment indicators during the last two decades or so.
The decline achieved ininfant and child mortality rates since the early 1990s, for example, is among the fastestin the developing world.
Bangladesh has already eliminated gender disparityin primary and secondary school enrolment and is near to achieving universal basiceducation.
Yet it appears that the US has overlooked these advances leavingBangladesh with a poor reputation on the global stage.Bangladesh may well be the world's leader in using NGOs as vehicles of socialdevelopment.
NGOs are involved both in the delivery of services and in the scaling upof the interventions through social awareness campaigns.
In February 2021, Bangladesh fulfilled all three criteria to graduate from a leastdeveloped country (LDC) to a developing country, for the second time since 2018.
The United Nations has recommended Bangladesh's graduation by 2026. Besides, in2015, Bangladesh became a lower-middle income country from being a low-incomecountry, according to the World Bank's classification of countries.
Political andeconomic institutions are relatively inclusive and pluralistic.
And ifBangladeshi democracy is flawed how does Pakistan fare any better? If anything,Bangladesh scores better on various objective indicators of institutional strength thanPakistan. It scores 39 out of 100 from Freedom House, while Pakistan gets 37.
Bangladesh is ranked 76th in the world by the Economist Intelligence Unit'sDemocracy Index, just marginally missing out on "flawed democracy" status. Pakistanis much further down the list, at 105th, just below Turkey, a nominal U.S. ally that hasnot been invited. Pakistan has the lowest Freedom in the World score of any invitedcountry from the Asia-Pacific region, followed closely by the Maldives at 40.
If elections are a criterion, Bangladesh's last election was described as "improbablylopsided" by the State Department. Pakistan's last election, meanwhile, took placeafter its principal opposition leader had first been disqualified and then, for goodmeasure, sentenced to jail.
The election itself was, the State Department noted,marred by "pre-election interference by military and intelligence agencies that createdan uneven electoral playing field." So again the invitation to Pakistan while leaving outBangladesh makes little sense.
A fact is that the US has had close ties with the BNP which has not played a role inthe last two elections over the years which may have influenced the decision. Sri Lankais out of the list, largely because of the nature of its democracy and possibly theRajapaksas' close ties with China.
Professor Delwar Hossain, an internationalrelations analyst and former chairman of the Department of International Relations atDhaka University, observed that the China factor might be the biggest considerationin not inviting Bangladesh since the United States has been working to corner Chinain the international arena. According to him, China's relations with Bangladesh havebeen very good in recent times.
China's relationship with Sri Lanka is also gettingstronger day by day.
Therefore, the US might have sent a message to China and thesetwo countries by not inviting them, he feels. Besides, there may be an anti-Bangladeshlobby in the Biden administration that may have tried to create an image crisis forBangladesh by not inviting it to the conference.