Column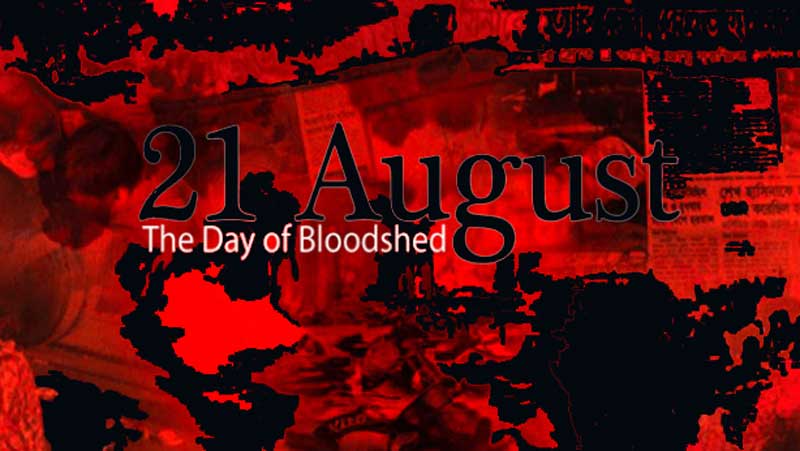 Fifteenth anniversary of horrifying August 21
On August 21, 2004 there was an orchestrated attack on Awami League rally in Dhaka that resulted in the death of 24 ranking Awami League leaders including Awami League Women's Wing President and wife of former President Zillur Rahman and injury to about 500, scores of whom were crippled for life.
Awami League President and then Opposition leader Sheikh Hasina was addressing an anti-terrorism rally organized by her party when the attack was carried out and she had a narrow escape while being whisked away in a bullet-proof car. The motive behind the attack was to assassinate Sheikh Hasina, the only obstacle blocking BNP-Jamaat alliance's attempts to establish perpetual hold on the reins of power.
BNP Chairperson and then Prime Minister Khaleda Zia left no stone unturned to save the perpetrators of the grisly attacks. What followed after the grenade attacks was a bizzare sequence of events one would associate with mafia rather than civil rule. The then BNP-led government headed by Khaleda Zia tried to establish through multiple so-called investigations that the Awami League itself had carried out the attacks to tarnish the image of the BNP-led government.
Maj Gen (retd) Sadiq Hasan Rumi, who headed the country's premiere intelligence agency Directorate General of Forces Intelligence (DGFI) when the August 21 attack was carried out, tried to inform the then Prime Minister Khaleda Zia about it immediately after the incident. Khaleda Zia was away at a public rally in Noakhali at the time and so it was not possible for him to reach her on the same day. She was unavailable in the phone too. Therefore the ex-DGFI chief contacted her Political Secretary Haris Chowdhury over his phone and asked him to apprise the Prime Minister about the incident. Without showing any interest, Chowdhury told Gen Rumi that he would convey his message to the Prime Minister and abruptly hung up the phone before the DGFI Chief could explain the incident in detail.
Not satisfied with the response, Gen Rumi contacted the then State Minister for Home Lutfozzaman Babar (now sentenced to death in Chittagong arms haul case) over phone. Babar, who was then in his office, heard ex-intelligence chief without showing much interest and then suddenly disconnected the phone line without allowing him a chance to give details of the gruesome incident. Next day, August 22, 2004, the ex-DGFI chief met Prime Minister Khaleda Zia at her office in Dhaka and sought her permission to conduct an investigation to find out the persons responsible for the tragic incident. Khaleda Zia did not evince any interest. She perfunctorily remarked that a committee would be formed to inquire into the matter but 'I need not investigate', said Gen Rumi.
"I understood the Prime Minister (Khaleda Zia) knew everything beforehand. So I left her office instead of lingering the conversation," Gen Rumi told before a magistrate as a witness. The ex-intelligence chief said that he was denied permission for investigating into the attack. He said that Khaleda Zia appeared visibly annoyed and she virtually rebuked him as he wanted to talk to her on the attack and investigation issue.
"From where you gathered the ridiculous information . . . what is your headache if Tajuddin (a key attack plotter) goes to Pakistan or anywhere else?" Gen Rumi recalled Khaleda Zia as telling him with annoyance when the ex-intelligence chief sought to confirm a report that the Prime Minister herself ordered safe passage to Pakistan of one of the key plotters entrusted with the task of executing the attack on Sheikh Hasina, Maulana Tajuddin, brother of BNP leader and former Deputy Minister Abdus Salam Pintu.
The ex-intelligence chief said in his testimony before the Magistrate in Dhaka that the former DGFI official Brig Gen Rezzaqul Haider Chowdhury (now sentenced to death in Chittagong arms haul case) who represented DGFI at the Home Ministry meetings on grenade attack issue, used to maintain direct link with Tarique Rahman and state home minister Babar defying the DGFI norm and his advice and after the attack he (Brig Gen Rezzaqul Haider Chowdhury) received direct instructions from Babar to destroy the unused grenades left behind by the attackers.
Gen Rumi said, two other DGFI officials after some days came to him and said they received orders from Khaleda Zia through Babar and Khaleda Zia's nephew and Private Secretary Saiful Islam Duke to arrange Maulana Tajuddin's safe passage to Pakistan.
Gen Rumi's statement before a Magistrate, which was carried by Bengali weekly 'Saptahik 2000', came as the trial of the grisly attack was underway with the court indicting a number of high-profile suspects including Khaleda Zia's fugitive son and BNP Senior Vice Chairman Tarique Rahman as a mastermind.
Under a court order Tarique Rahman and 19 others are being tried in absentia as they failed to appear before the court and they were declared absconding to evade justice. Two ministers including the then influential State Minister for home Lutfozzaman Babar, three former police chiefs, and several former military officials who were posted in DGFI at that time and many kingpins of outlawed HUJI are among others now facing trial in the case.
HUJI leader Maulana Tajuddin, brother of senior BNP leader Abdus Salam Pintu, was provided with a fake passport with the name 'Badal'. Khaleda Zia's nephew Saiful Islam Duke, his brother-in-law and DGFI official Lt Col Saiful Islam Joardar and another senior DGFI official Maj Gen ATM Amin helped Tajuddin leave the country for Pakistan with the fake passport on October 10, 2006 at the fag end of BNP-Jamaat rule under instructions of then Home Minister Lutfozzaman Babar with express approval of Khaleda Zia.
These incidents prompted the military-backed caretaker government that assumed power in 2007 to order a fresh investigation into the case. Out of 52 accused, 19 including BNP Vice Chairman and Khaleda Zia's sonTarique Rahman and Haris Chowdhury are on the run, eight including three ex-IGPs are on bail and the rest including Babar are in jail.
HUJI militants including their chief Mufti Hannan (now executed for carrying out grenade attack on the then British High Commissioner in Sylhet in 2004), according to their confessions, held two meetings with Tarique Rahman before carrying out the grenade attack and sought support of the BNP leader in executing their plan to assassinate Sheikh Hasina. Tarique Rahman assured them of all-out support in their mission.
Lutfozzaman Babar, then State Minister for Home, Haris Chowdhury, Political Secretary to then Prime Minister Khaleda Zia, Ali Ahsan Mohammad Mojaheed, Secretary General of Jamaat and then Social Welfare Minister (now executed for war crimes), NSI Director General Abdur Rahim and DGFI Director Brig Gen Rezzaqul Haider Chowdhury were present in the meeting with Tarique Rahman at Hawa Bhavan when the go-ahead signal to carry out grenade attack on Sheikh Hasina was given to the militants.
It is evidently apparent that the plot for August 21 massacre was outlined at Hawa Bhavan, alternative powerhouse of the BNP-led government during 2001-06, and BNP Vice Chairman Tarique Rahman was the key person behind it.