Column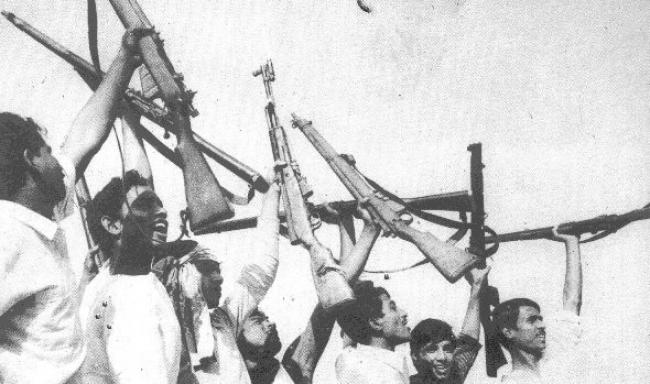 First verdict of war crimes tribunal
A section of people of this country had collaborated with the occupation forces of Pakistan in unleashing a reign of terror to thwart the emergence of Bangladesh as an independent and sovereign country in 1971. The exact number of people killed by the Pakistani occupation forces and their local collaborators is not known. Modest estimates put the figure at around thirty lakh. Apart from many other heinous war crimes and crimes against humanity, an estimated 200,000 Bengali women were raped by the Pakistani forces and their local collaborators during the nine month long liberation war. Many local collaborators of the Pakistani occupation forces fled after the emergence of Bangladesh while some chose to remain underground.
The collaborators had assisted the occupying Pakistani forces to commit monstrous crimes like mass murder, rape, torture, looting and destruction. In keeping with rising pitch of demand for trial of anti-liberation elements for the heinous crimes committed during the liberation war, the process of war crimes trial was set in motion within one year after independence of the country. Several tribunals were constituted and a few convictions were secured. Some of them were pardoned. But following the murder of Sheikh Mujibur Rahman in 1975, the war crimes trial process was blocked and for the following three decades a succession of military administrations swept aside all attempts to bring the war criminals to justice. The tribunals were closed and more than 10,000 war crimes accused were freed and released from jail. The trials were completely frozen and sent in cold storage after the turmoil in 1975 and virtually buried thereafter. Bangladesh is perhaps the only country where enemies of independence, in stead of being ashamed, felt emboldened to move around openly for more than four decades with their head held high.
Thereafter, responding to people's demand, the Awami League led Grand Alliance government headed by Sheikh Hasina that came to power in 2009, initiated measures to hold trial of war crimes and crimes against humanity committed during the liberation war. The first verdict of war crimes tribunal has been pronounced. A former Jamaat-e-Islami member Abul Kalam Azad has been given death sentence. This is indeed a milestone verdict as it proves that passage of time is no factor and trial of any crimes is possible even after 41 years provided there is sincerity of purpose. Different political parties and organizations have expressed satisfaction and hailed the verdict. They are saying that the verdict is an affirmation that Bangladesh is a free country
and this will hasten the process of verdict in other cases pending in war crimes tribunal. Prime Minister Sheikh Hasina deserves to be congratulated and thanked for her initiatives in this regard. She has expressed her firm determination to bring all war criminals to justice and by doing so she will rid the country of stigma.
The main opposition BNP has not given any instant reaction saying that the party's policy making body will make a statement after studying details of the verdict. The initiation of war crimes trial seeks to bring to justice men, particularly the top leadership of Jamaat-e-Islami who collaborated with the Pakistani occupation forces in the genocide of thirty lakh people during the liberation war and in the use of rape and collective slaughter as instruments of state policy.
People across the country feel so elated at the verdict that they are bringing out processions and are overjoyed with rejoice and merry making. They are also seen offering sweets to express their feelings. Bangladeshi nationals settled in foreign countries are also celebrating this occasion. The rejoice and merry making now evident reminds one of 1971 when Bangladesh became independent and people came out on the roads for celebrating the occasion. But there is also a dark side to it. How this much despised war criminal Abul Kalam Azad alias Bacchu Razakar fled dodging the police and other law enforcing personnel? Those who assisted Bacchu Razakar in fleeing must also be given the same punishment.
The war crimes trial process in Bangladesh has been endorsed by the US and other western countries.There are also negative reactions from some countries and agencies. Eminent human rights activist and intellectual Sultana Kamal of Bangladesh has said that some countries and agencies have made adverse comments on the war crimes trial out of ignorance. She also pointed out that some countries chose to side with Pakistan and keep mum on the genocide, rape and other heinous crimes committed by the Pakistani occupation forces and their local collaborators in 1971.