Entertainment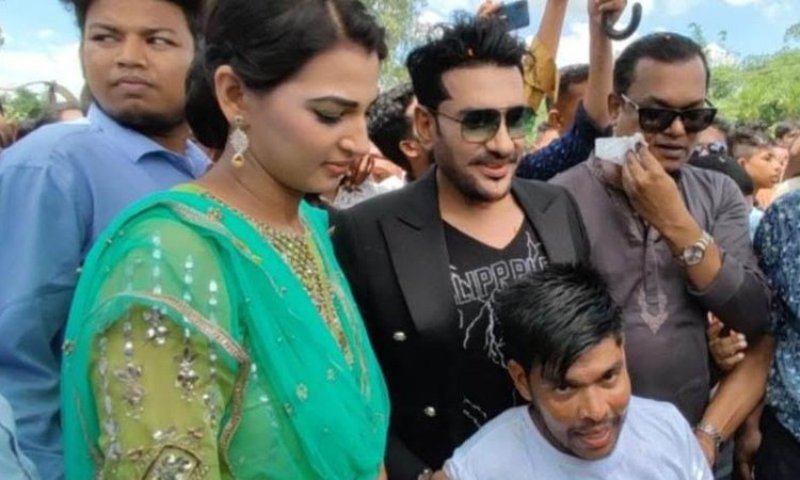 Photo: Collected
Actor Ananta Jalil takes responsibility of a disabled fan's treatment
Own Correspondent, Dhaka, July 15: Responding to the love of a disabled fan, the actor Ananta Jalil and his wife actress Barsha went to Kahalu in Bogura. They landed at Kalipara High School ground in a helicopter around 12:45 pm on Thursday (July 14). At this time, a crowd gathered at Nimarpara village of the upazila to see Jalil-Barsha.
According to the locals, Ananta Jalil and Barsha had been acquainted with Mohammad Rana Ahmed, the disabled son of Mozam Uddin of the village, for a long time. They assured Rana of providing financial assistance of two lakh taka and promised him proper treatment abroad.
Anant Jalil said, "Rana is a major reason for coming to Bogura. Apart from visiting Rana, I am also able to come to the people. I would like to thank his parents. His mind is much bigger than yours and mine."
He said, "I will take Rana to Dhaka. I will arrange his passport to take him to Thailand for treatment. I will try. The rest is God's will. Please pray for us. Pray for Rana."
Kahalu Upazila Awami League President Helal Uddin Kabiraj, General Secretary Abdul Mannan, Nandigram Upazila Awami League President Anwar Hossain Rana and other local dignitaries were present there that time.