Entertainment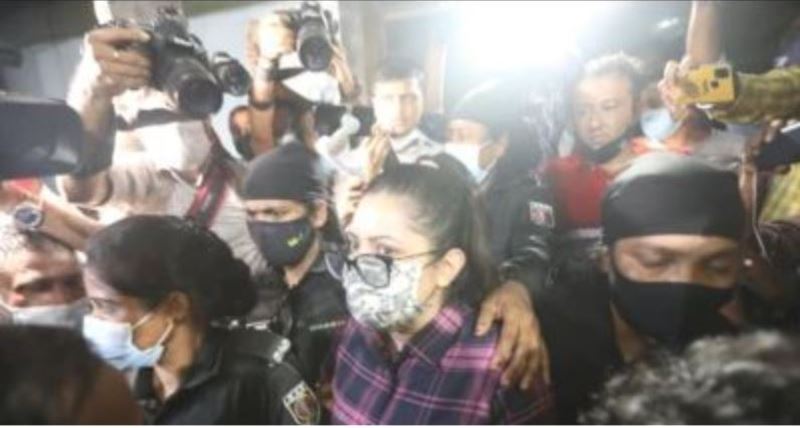 Collected
Actor Pori Moni detained by RAB after house raid
Dhaka, August 5: Actor Pori Moni has been detained by RAB on the basis of specific allegations, follwing a three-hour-long raid on her Banani home on Wednesday afternoon. Drugs were recovered from the actor's residence.
Recently, Pori Moni came to limelight after accusing a businessman of attempted rape at a club in Dhaka. Following the filing of the case, some "disorderly" behavior of the actress was also revealed.
Club authorities accused Pori Moni of vandalizing a club in Banani. Although the actor said, unreasonable issues are were being brought to the fore to cover up her allegations.
Pori Moni had alleged that businessman and politician Nasir U Mahmud tried to rape her late at night at the Dhaka Boat Club. This led to Nasir being expelled from the club and eventual arrest. However, he is now out on bail.
A joint team from RAB headquarters and RAB 1 started the operation at house No. 12 on Lake View 19 / A Road in Banani around 4 pm on Wednesday. The actor started a Facebook Live session from her verified page as soon as she realised it. There, she complained about some people vandalizing her property. Suspecting the men as robbers, Pori Moni also asked help from others during the live session.
During the ongoing session, she spoke on the telephone in a few times. Although they were prevented at first, the RAB members eventually entered the house through the main gate. The actor was still live on Facebook at that time.
At one stage, after confirming their identities as members of the law enforcement force, Pori Moni opened the door and let them in. RAB members entered the house and started the operation in the presence of a magistrate. After seven in the evening, the she was escorted out and taken to the RAB office in a microbus around 8 pm. However, no one from the RAB spoke about the arrest on the spot. Details of the detention will be announced on Thursday, officials said.
Pori Moni first came to the limelight with her performance in the film 'Amar Prem, Amar Priya'.
She was adjudged the Best Actress (Critics) at the CJFB Performance Award in 2019.
Pori Moni, who real name is Smrity Shamsunnahar, is the only star in Bangladesh to be included in the Forbes list of Asia's 100 Digital Stars. The list for 2020 included several Bollywood stars, including Amitabh Bachchan, Akshay Kumar, Shah Rukh Khan and Alia Bhatt.
She has about a follower base of 10 million on Facebook.