Entertainment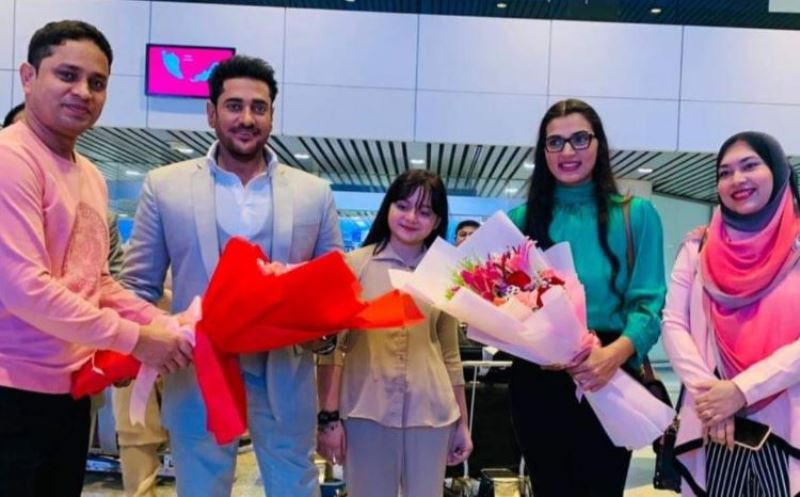 Photo: Collected
Actors Ananta Jalil, Barsha welcomed in Malaysia
Entertainment Correspondent, Dhaka, Sept 15: Actor Ananta Jalil and his wife actress Barsha were welcomed with flowers in Malaysia. They were greeted with flowers when they arrived at Malaysia Airport around 8 am local time on Tuesday (September 13). Leaders of the Malaysian Film Directors Association were present under the leadership of Datu Jul Kifli.
Mustafa Hossain, director of RMH Global, the Malaysian distributor of 'Din The Day', film director Zafar Firoz, Dr. Halima Sadia, RMH Global representative Robin Howlader, Mehdi Hasan, and Salahuddin Ahmed were present there.
Tomorrow, Friday (September 16), the movie 'Din The Day' will be releasing in Malaysia. The couple will watch the first screening of the movie with the audience at TGV KLCC in Kuala Lumpur on September 19 at 5:20 pm. They will attend the screening at MMC City Square in Johor Bahru on September 18 at 5:20 pm.
'Din The Day' movie is a joint production of Bangladesh and Iran. Apart from Ananta and Barsha, the film also features actors from Iran and Lebanon. In the meantime, the movie has received a huge response among the Bangladeshi diaspora. The movie was supposed to release in 11 theaters there in the first week. In their interest, it is going to be released in 15 theaters by increasing four more theaters.
Ananta Jalil plays the role of a police officer of an international organization in the movie. Apart from Bangladesh, the movie was shot in Iran, Turkey, and Afghanistan.