Entertainment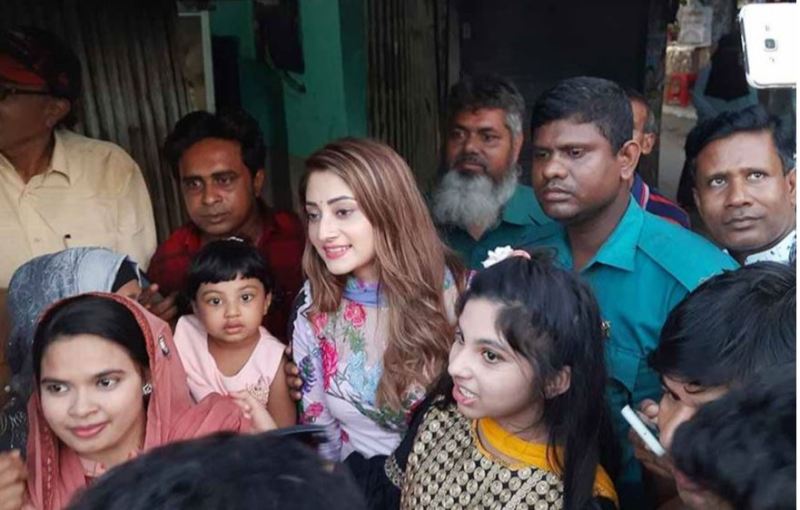 Photo: Collected
Actress Puja Cherry fascinated by the audience in Khulna
Entertainment Correspondent, Dhaka, July 12: The gate of Khulna's Khalishpur Chitrali Cinema Hall was crowded. Visitors were seen taking selfies. After a while, the audience met the actress Puja Cherry. She was also spotted taking selfies with the audience and her fans.
Puja Cherry was fascinated by the love of Khulna's people. The audience was also happy to see Puja Cherry for the first time. Such a scene was seen at the main gate of Chitrali Cinema Hall on Monday (July 11) around 6:30 pm. The movie 'Psycho' starring Puja Cherry is being screened in this hall. Director Anonno Mamun was with Puja during the hall visit.
Anonno Mamun's 'Psycho' movie has been released this Eid-ul-Azha. Screening of the film is going on at Chitrali and Shankha cinema halls in Khulna. Roshan and Puja Cherry have played the lead roles in the movie. 'Psycho' has been produced by Celebrity Productions. Apart from Roshan-Puja, Shahiduzzaman Selim, Rosie Siddiqui and others have also acted in the film. Apart from Bangladesh, the movie was shot in Nepal.
Puja Cherry said, "Khulna is my home town. I've been here before. However, I came here first time to visit the cinema hall. It feels very good to come to Chitrali Hall. I didn't expect so much to come here. Since it is the Eid of Sacrifice, it is normal for anyone to be busy with Eid. It is a matter of great fortune to get visitors at this time. I am surprised after arriving here. Everyone has accepted the movie 'Psycho' so well. That's a lot to us."
"I grew up in Dhaka, but my father was born in Khulna. Dad's house means my house. My grandparents all live here. Before that I used to come during puja," she said.