Entertainment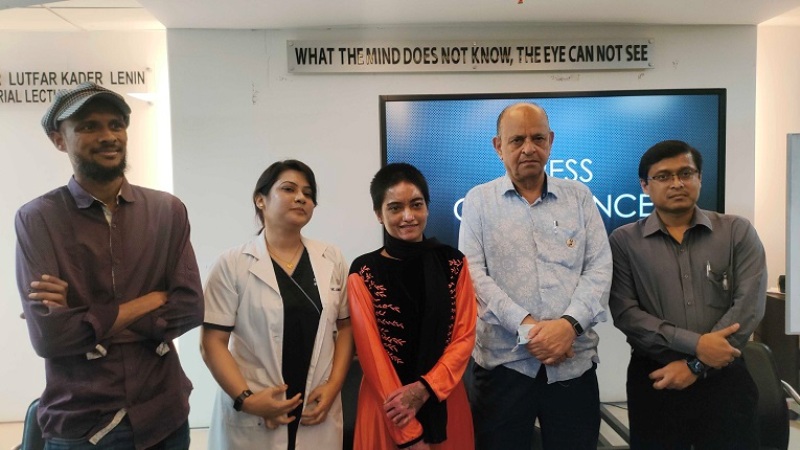 www.facebook.com/mohammadali.rinquo
Actress Sharmeen Akhee, who sustained burns while shooting, returns home
Dhaka, March 29: Small screen actress Sharmeen Akhee got burnt while shooting. Now her physical condition has improved somewhat. Therefore, after two months, the actress returned home from the High Dependency Unit (HDU) of the Sheikh Hasina National Institute of Burn and Plastic Surgery on Tuesday.
Before returning home, Akhee recalled that terrible day in a press conference on Tuesday afternoon.
She said, "The horror of that day is still fresh. That day I went to the bathroom of the shooting house in Mirpur. As soon as I entered there, I noticed a spark. Then suddenly there was a loud noise. At that time, the door of the bathroom flew open. Half of my body was inside the bathroom, and the other half was outside. The body caught fire instantly."
This is how actress Sharmeen Akhee was describing the most difficult moment of her life. On January 28, she was burnt in an explosion at a shooting house in the capital's Mirpur. Thirty-five percent of her body was burnt. She fought with death for two long months. She was in the ICU of Sheikh Hasina National Institute of Burn and Plastic Surgery.
The actress said, "After the explosion, I was first taken to a local hospital by the shooting unit. Then I was taken to the Sheikh Hasina National Institute of Burn and Plastic Surgery. You know, this accident happened on the 28th of January. Today, on the 28th, I am going back home."
Thanking the doctors, Akhee said, "I am grateful to those who gave me the opportunity to return home today after giving me long-term care."
Dr. Samanta Lal Sen, coordinator of the institute, was present in the press conference. He said, "Thirty-five percent of Sharmeen Akhee's body was burnt. And 35 percent burns are dangerous for any person. We can't call it safe with 15 percent burns and she has 35 percent burns."
He further said, "Today we are officially discharging her from the hospital after two months of treatment under our supervision."
The actress' husband, producer Rahat Kabir said, "By the grace of Allah, Akhee is much better now than before. Now she can get out of bed, eat properly. She feels much better. So the doctors have given permission to take her home."