Entertainment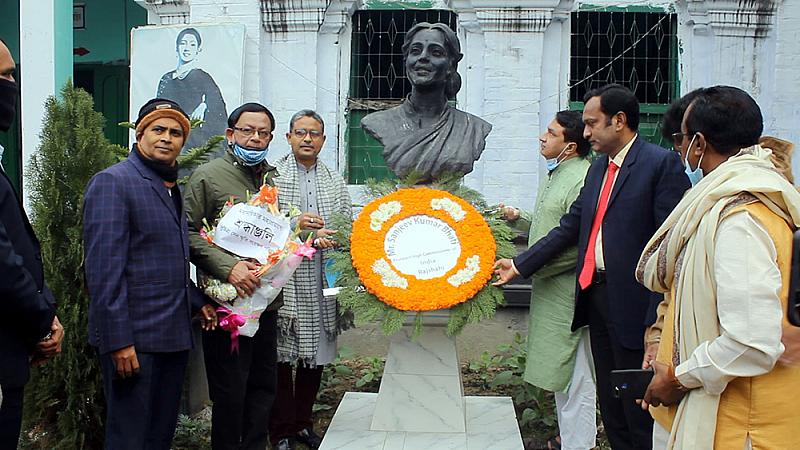 Collected
Actress Suchitra Sen's eighth death anniversary observed in Pabna
Dhaka, January 18: Legendary actress Suchitra Sen's eight death anniversary was celebrated in Pabna at her ancestral home. Sanjiv Kumar Bhati, Assistant Commissioner, Indian High Commission, Rajshahi Office, and other visitors laid wreaths at the sculpture at the ancestral home of Mahanayaka in Himsagar Lane, Gopalpur Mahalla, Pabna on Sunday (January 18th) morning, organized by the Suchitra Sen Memorial Preservation Council.
Later, a memorial meeting was held at Pabna Press Club under the chairmanship of M Saidul Haque Chunnu, President of Suchitra Sen Memorial Preservation Council.
The ancestral home of the late Suchitra Sen, the heroine of Bengali films, in Pabna was long occupied by the Jamaat-e-Islami-controlled Imam Ghazzali Trust. The house was vacated by the administration in the wake of the High Court verdict.
It is known that when Suchitra Sen's father Karunamay Dasgupta moved to Calcutta, the architectural style of the house was very beautiful. There was a one-storey building with a roof. The house was decorated with flowers including palm trees, coriander and tuberose. But the lessees violated the conditions and broke the roof of the building and put tin. All valuable trees have been cut down. These illegal activities need to be brought to justice.
Suchitra Sen spent her childhood and adolescence with her parents and siblings in this house in Hemsagar Lane, Gopalpur Mahalla, Pabna. She married Divanath Sen, a marine engineer, in February 1947. She was then in ninth grade. After marriage she moved to Calcutta with her husband.