Entertainment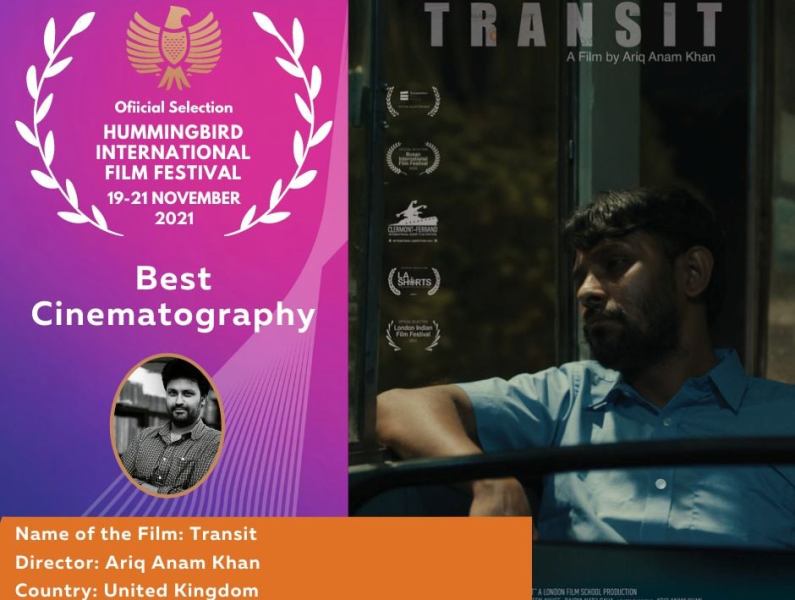 Collected
Ariq Anam Khan's short film "Transit" wins prize at Hummingbird International Film Festival
Dhaka, November 24: Bangladeshi film-maker Ariq Anam Khan's short film "Transit" received the Best Cinematography Award at the inaugural edition of the Hummingbird International Film Festival on Sunday.
The festival concluded at the HL Roy auditorium hall, Jadavpur University in Kolkata.
A total of 105 films from 35 countries were screened at the festival, according to reports.
On Sunday, the last day of the festival, prizes were given in seven categories: - Best Fiction Film Award, Best Experimental Film Award, Best Documentary Film Award, Best Animation Film Award, Best LGBTQ Film Award, Best Director Award and Best Cinematography Award.
'Transit' had its world premiere at the Encounters Film Festival in 2020.
The IMDb synopsis of the film reads: "Stuck in a lonely and unforgiving city, a Bus Canvasser waits for an opportunity to migrate to create a better future for his family. Migrating means making sacrifices, but sometimes the reasons to stay outweigh the reasons to leave."
The film stars Jahangir Alam in the lead role.
The ensemble cast includes Sharmeen Akhee, Baidya Nath Saha, Khairul Alam Tipu, Sharif Hossain Emon and others.