Entertainment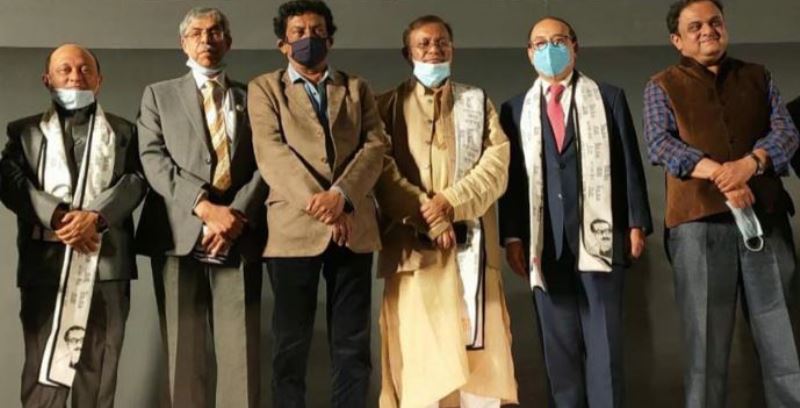 PID
Bangladesh Film Festival inaugurated in Kolkata
Dhaka/Kolkata, February 6: Information Minister Dr. Hasan Mahmud has said that the Bangladesh Film Festival in Kolkata will further contribute to deepen the closeness between the two Bengals. He was speaking as the chief guest at the inauguration of the third Bangladesh Film Festival- which will take place from February 5 to 11- at Nandan-1 Hall of Rabindrasadan in Kolkata on Friday afternoon as part of the regular annual initiative of the Information Ministry.
The minister said the film touches the deepest feelings of the people and leaves a lasting impression on the mind. That is why it is able to play a unique role in building people-to-people communication.
Bratya Basu, Minister of Science, Technology and Biotechnology of West Bengal and a prominent playwright; and, Foreign Secretary of India, Harshvardhan Sringla were the guest of honour, Bangladesh High Commissioner to India Mohammad Imran; and, legendary film maker Gautam Ghose were the special guests and First Secretary (Press) Dr. Md. Mofakkharul Iqbal addressed the function as the welcome speaker in the presence of Bangladesh Deputy High Commissioner in Kolkata Tawfiq Hasan.
Dr. Hasan Mahmud said that films started in Bangladesh because of Bangabandhu. And under the leadership of Prime Minister Sheikh Hasina, daughter of Bangabandhu, India-Bangladesh films are being made jointly, which was not there before. "Our real identity is Bengali, so we need to increase cultural exchange. As a result, the two Bengals will be close."
Bratya Basu, a minister in the West Bengal government, said it was not right to mix politics with art and literature for development in the society. He said Sheikh Mujibur Rahman, the father of the nation of Bangladesh, is a unique asset in Bangladesh and West Bengal and in the whole world.
Describing this year as the centenary of Bangabandhu's birth, the 50th anniversary of Bangladesh's independence and the 50th anniversary of India-Bangladesh diplomatic relations, Indian Foreign Secretary Harshvardhan Sringla said, "India-Bangladesh freedom fighters fought together and made Bangladesh independent. India-Bangladesh relations share blood ties. So this relationship is not to be severed."
Saimum Sarwar Kamal, Chairperson of the Parliamentary Standing Committee on the Ministry of Information, Nuzhat Yasmin, Managing Director of BFDC, actor Jaya Ahsan, and noted filmmaker Srijit were present on the occasion.
Of the 32 films of the festival, 'Hasina: A Daughter's Tale' was screened on the opening evening.
On the occasion of this year's Mujib Year and the Golden Jubilee of Independence, the Ministry of Information, with the support of the Indian authorities, has organised a meeting with the Bangladesh High Commission in Kolkata at the Brigade Parade Ground on February 6 to commemorate the occasion.
On the occasion, a reception will being given to the Indian veterans of the Liberation War Alliance.