Entertainment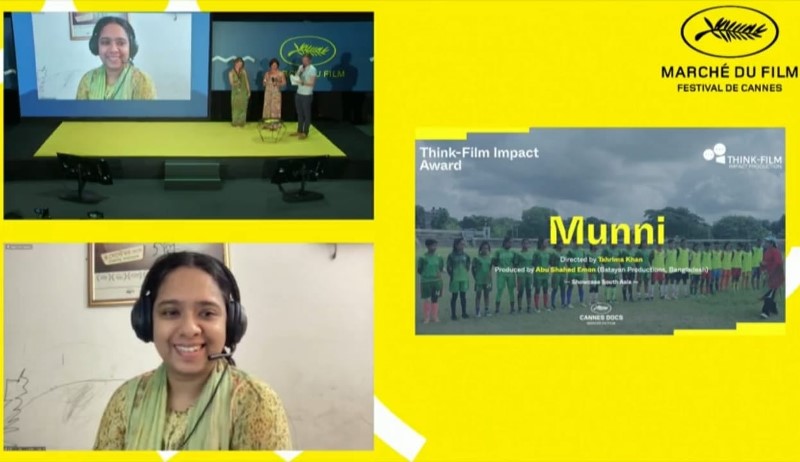 Collected
Bangladeshi director Tahrima Khan Tonni's documentary feature "Munni" wins award at Cannes Film Festival
Cannes, July 14: Bangladeshi director Tahrima Khan Tonni's debut documentary feature "Munni" has won an award at the ongoing Cannes Film Festival.
The documentary bagged the prestigious Think-Film Impact Award at the Cannes Docs Marche du Film, according to reports.
The Marche du Film is a market that showcase in progress documentaries that are seeking money to complete a part of their of shoot or post-production work.
These projects will also be competing for USD 11,866 (Tk 10,05,835) prize and other awards.
This year, four documentaries from Afghanistan, Bangladesh, India and Nepal were showcased.
Hezbullah Sultani's feature documentary Birds Street, which traces Kabul's avian life, was Afghanistan's entry. Bangladesh offered Munni- that deals with a child bride who becomes a football coach in an all-girl sports academy.
Indian's entry is director Partha Das's Thirteen Destinations of a Traveller, while Nepal offered Subina Shrestha's Devi.
Speaking about her project, Tonni told Dhaka Tribune Showtime: "When girls are winning awards, everybody wants to touch their crests, but these girls rarely get an enabling environment from family or society at large. Most of the times, rural girls get married off at a very young age. All we need to do is motivate them and they can fly on their own."
Produced by Abu Shahed Emon, Munni is yet to be completed.