Entertainment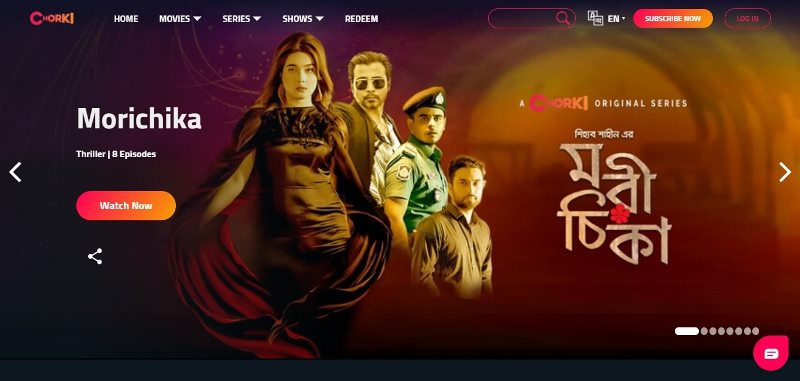 app.chorki.show
Bangladeshi video streaming platform Chorki begins journey
Dhaka, July 12: Bangladesh video streaming platform Chorki has started its operations from Monday (July 12).
Renowned actress Jaya Ahsan introduced the platform and its content in a nearly 15-minute-long video.
The platform will stream Siam-Mahi-Nisho's web series Morichika.
Kamar Ahmed Simon's "Neel Mukut" and Amitabh Reza's "Munshigiri" will also debut on Chorki.
Apart from it, Anthology series "Unoloukik," starring Asaduzzaman Noor, Chanchal Chowdhury, Nusrat Imrose Tisha, Gazi Rakayet, Iresh Zaker, Rafiath Rashid Mithila and others is set to premiere on the first day of Eid.
Chorki's original film Youtumer- directed by Adnan Al Rajeev and starring Pritom Hasan and Ziaul Hoque Polash, will also be available.
According to the platform, it will release one original film every month.
For now, the platform is offering four types of subscription- 30 Days Starter, Half Yearly, Yearly, Yearly Plus.
The Yearly Plus package for Tk 799 comes with the most benefits, including seven-device login and two simultaneous streams.
The Yearly plan is priced at Tk 499. It offers five-device login and one simultaneous stream.
The Half Yearly and 30 Days Starter packs grants login in four devices with one simultaneous stream each.
The monthly scheme is for Tk 50, while the 6 month pack is priced at Tk 299, according to the platform's website.