Entertainment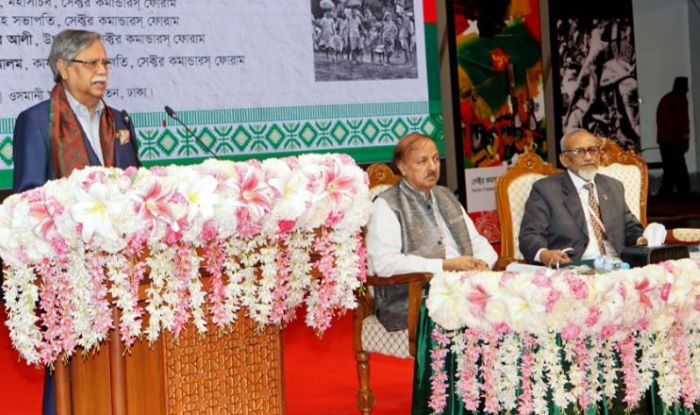 PID Bangladesh
Beware of anti-libertarians: President's appeal to people
President Md Sahabuddin has called on everyone to be vigilant so that the anti-independence people cannot come to power in any way.
He made this call at the opening ceremony of the sixth national conference of 'Sector Commanders Forum- Liberation War 71' at the Osmani Memorial Auditorium in the capital on Saturday, September 23.
Bir Muktijoddha, Executive President of Sector Commanders Forum, said in the event. Nurul Alam, Advisor of Sector Commanders Forum Bir Muktijodha Sarwar Ali, Vice President Bir Muktijodha Md. Hamid and Secretary General Haroon Habib spoke.
President Sahabuddin said, "I believe we will move forward unitedly." I will oppose those who plot. We have to work together. Addressing the brave freedom fighters and representatives of the new generation who attended the national conference, the President said that care should be taken to ensure that those who opposed freedom do not come to power in any way.
To accelerate the development of the country, the President said, personal, family, social, political and state work should be carried forward through strong leadership by showing responsibility. The President also requested everyone, including the successors of the brave freedom fighters, to work together to make the country's hard-earned independence meaningful and the benefits of independence reach the doorsteps of the people.
President Sahabuddin in his speech highlighted the contribution of Bangabandhu Sheikh Mujibur Rahman to the independence and development of Bangladesh. He said, it is undeniable that many games have been played in the politics of Bangladesh, many leaders have come. But Bangabandhu is winning this game. He said that even though Bangladesh gained independence through a long struggle, the plot of the anti-independence did not stop. They are still active.
Referring to the 1971 genocide, the President said that the 1971 genocide organized on the soil of Bengal is the worst genocide of the 20th century. On June 13, 1971, world journalist Anthony Mascarenhas published a detailed account of the genocide in The Sunday Times newspaper of the United Kingdom, stating that the President said that the demand for international recognition of the Bengali genocide needs to be emphasized in the international arena.
The President unveiled the book published by the Sector Commanders Forum on International Recognition of Bangladesh Genocide.