Entertainment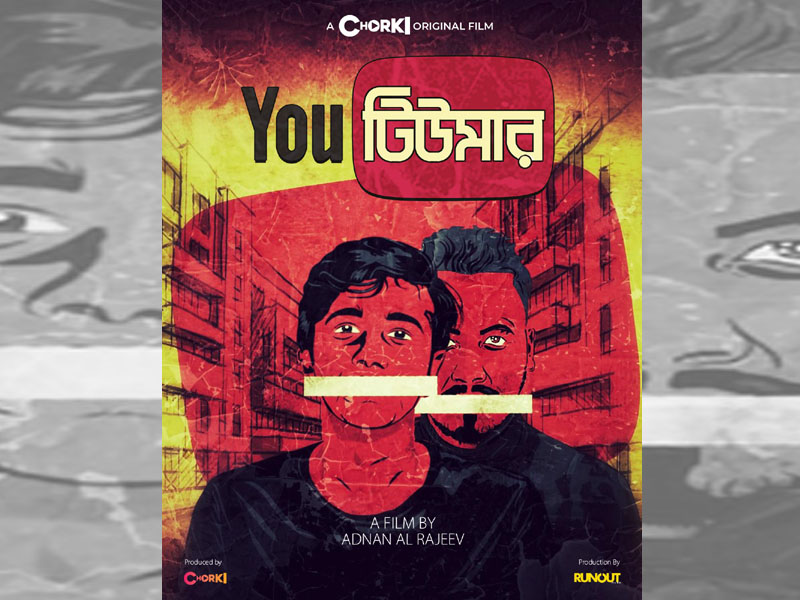 www.facebook.com/ChorkiOfficial
Chorki releases teaser poster of its first original film 'Youtumer'
Dhaka, July 9: Upcoming Bangladeshi video streaming platform Chorki has released the teaser poster of its first original film.
'Youtumer', the web film, is directed by Adnan Al Rajeev.
The film stars Pritom Hasan and Ziaul Hoque Polash in lead roles.
Gousul Alam Shaon, Sharaf Ahmed Jeevan, Kareena Kaiser, and Salman Muktadir are also set to feature in the film.
According to reports, the premise of the film deals with the lives of two friends who are YouTubers and their approach towards fame and success.
Speaking about the project, Adnan was quoted as saying by The Daily Star: "We have YouTubers and social media influencers today who are doing appreciable, innovative work."
"But there are some who are creating rather purposeless content, just for the clicks. A 'tumor' refers to an unnecessary, extra flesh. In line with that thought, I came up with the term 'YouTumor' for these 'extra' characters in the world of the internet."
"There are online content creators who handle fame quite gracefully with their consistent, creative ideas. Some, on the other hand, enjoy random fame and clicks, creating a lot of hoopla and excitement for no reason. They quickly reach a wide audience, but are forgotten the next day. If one does not have the intelligence and talent to combine their fame with, they will have a tough time maintaining their impact," the filmmaker added.
"'YouTumor' touches upon such relevant issues. That being said, we made this film to highlight some social issues, and at the same time, make people laugh," Adnan said.
The film is set to release on Eid.