Entertainment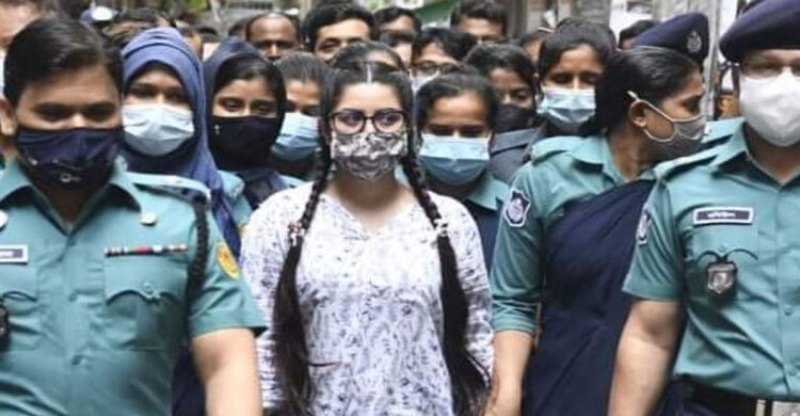 Collected
Drug case: Actress Pori Moni placed on a day's remand
Dhaka, August 19: The court has placed actress Pori Moni on a one-day remand in the case filed under the Narcotics Control Act. Dhaka Metropolitan Magistrate Atiqul Islam granted the remand after a hearing on Thursday (August 19).
Pori Moni was produced at the Dhaka Metropolitan Magistrate's Court from Kashimpur Women's Central Jail in Gazipur at 8:25 am on the same day. At that time she was kept in the court jail.
After that she was taken to the court yard around 11:30 am. As soon as she reached the witness box, she started crying profusely. She was repeatedly seen wiping tears with her hands.
According to the case sources, Pori Moni had been using drugs since 2016. She even used LSD and Ice (Methamphetamine). That's why she made a 'minibar' at home. She used to have regular 'wine parties' at home. Film producer Nazrul Islam Raz and many others used to deliver various types of drugs, including alcohol, to her house and attend parties.
The actress was produced in court on Thursday from jail for a remand hearing. Her grandfather Shamsul Haque rushed to the court at that time.
After the hearing, Pori Moni told the judge, "I want to talk to my grandfather and brother."
With the permission of the judge, at 12:25 pm, her grandfather spoke to her from outside the barracks. Pori Moni's two cousins ​​were present at that time. Their conversation ended at 12:27 pm.
Asked what she spoke about those two minutes, one of her cousins said, "We talked about family matters."
Earlier, at around 11:20 am, Pori Moni's grandfather came to the Dhaka Metropolitan Magistrate's Court premises. Asked why he came to the court, he said, "I have come to meet my granddaughter."
Mehedi, the cousin of Pori Moni, who was sitting next to her at the time, said he had come from Pirojpur to bring his grandfather to court.