Entertainment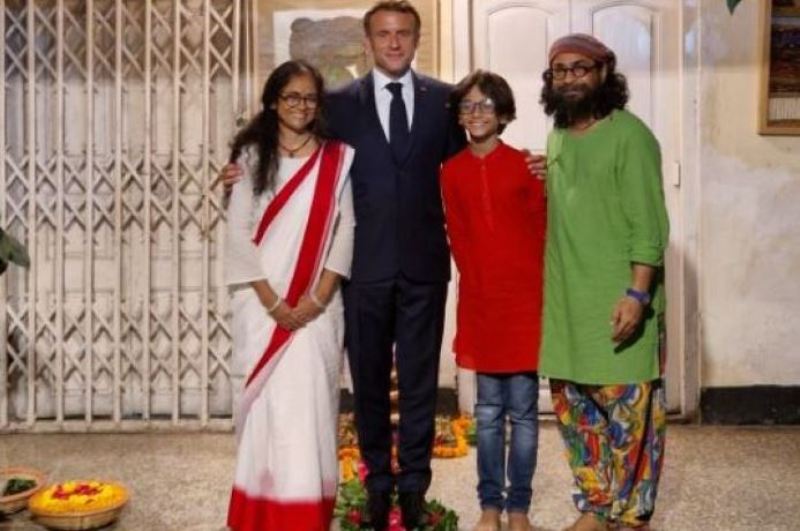 Collected
Emmanuel Macron visits Joler Gaan's lead singer Rahul Ananda's residence
Entertainment Reporter, Dhaka, 12 September 2023: French President Emmanuel Macron visited the house of Rahul Ananda, the famous artist of 'Joler Gaan'. Macron spent a fruitful time and stayed in there for 1 hour and 40 minutes.
Information and Broadcasting Minister Dr. Hasan Mahmud was also present with Macron at Rahul Ananda's house. Emmanuel Macron arrived at around 11:45 pm on Sunday night. The French President spent time with the artist and his family there. He also heard songs in Rahul's voice. He also expressed his fascination after listening to the song.
Rahul Ananda's Dhanmondi home was decorated amid Emmanuel Macron's visit. Rahul Ananda and his wife Sharmila Shukla decorated the courtyard of the house with rose petals and marigolds.
Rahul Ananda sang Lalon Fakir's 'Ari ki basbo emon sadhur sadhbajare/Na jani kon shomoy kon dasa ghote amare' by Lalon Fakir to the French president. He also performed Pratul Mukhopadhyay's song 'Ami Banglaye Gaann Gai'.
In the video posted on Facebook by Rahul Anand, Macron is seen sitting in the studio of 'Joler Gaan'. On the other hand, Rahul is explaining to him with various musical instruments. He also plays it sometimes. All in all, French President Emmanuel Macron thoroughly enjoyed the moments with Joler Gaan.
Not only that, Rahul Ananda gifted the Ektara that he played and sang to Emmanuel Macron. Emmanuel Macron got hold of it and tried to play it. This supreme person of France, one of the most powerful countries in the world, became a music lover for a while.
Macron also gave a gift to Rahul Ananda. Before leaving, he gifted a pen to the singer.
Rahul Ananda told the media in this regard, "The most beautiful gift given by French President Emmanuel Macron is a pen! He has asked me to write songs and poems with this pen, write about nature and life; one day he will listen to that song!"
When French President Emmanuel Macron goes on a state visit to any country, he enjoys the local sacred culture. As part of this, he visited the studio of 'Joler Gaan' during his visit to Bangladesh.