Entertainment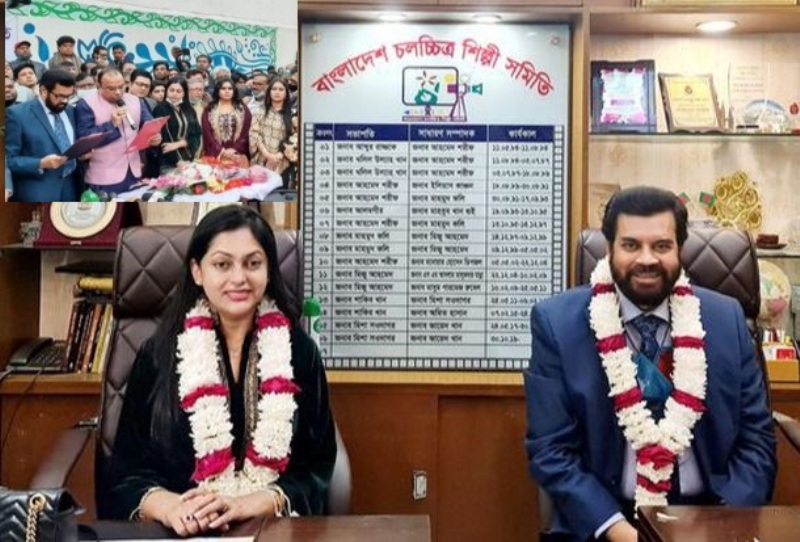 Photo: Collected
Film Artists Association: Ilias Kanchan, Nipun take oath
Own Correspondent, Dhaka, February 7: The newly elected committee of Bangladesh Film Artists' Association has been sworn in.
They were sworn in at 5:40 pm on Sunday in the open courtyard of the Film Development Corporation (BFDC)'s Manna Digital Complex. After taking oath, the newly elected members of the Bangladesh Film Artists Association understood the responsibility for the term 2022-2024.
Outgoing president of the film artists body, Misha Saudagar, and actor Alamgir were present on the occasion. Elected executive members, including Ferdous, Simon, Keya, Shahnoor, Amit Hasan, Arman, Azad Khan, Nadir Khan and many others, joined the programme.
Elias Kanchan, the newly elected president of the artists' association, said, "Thank you all for your support. We will try to work dedicatedly for the artists."
General Secretary Nipun said, "I am overwhelmed by the joy I see among the filmmakers in my victory. Those who were deprived for a long time, could not come to the association, they have come today. It seems like they have returned to their home after a long time. I want to work for everyone with this joy."
Presence of the previous panel's president, Misha, at the swearing-in ceremony was an additional attraction.
Misha Saudar said, "Everyone here is close to us. Hopefully the newly elected committee will do better for the artists. Brother Kanchan is here. Dear brother of all of us. I believe he will build the association for all the artists with his personality and honesty."
However, the outgoing general secretary Zayed Khan did not come. The post was finalized mainly through the Appellate Division and the Ministry of Social Welfare, where the candidature of Zayed was rejected, and Nipun was declared winner.