Entertainment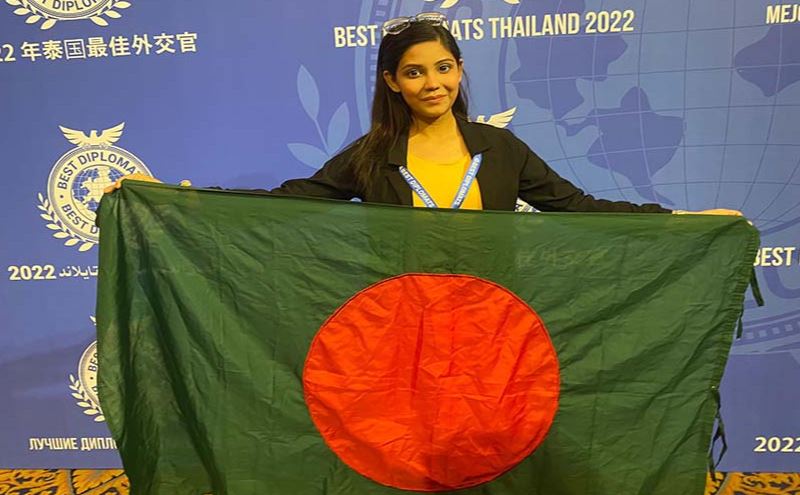 Collected
Filmmaker Nanziba Khan wins Best Diplomat Award at UN Simulation Conference
Dhaka, November 10: Bangladesh's youngest filmmaker Nanziba Khan received the 'Best Diplomat Award' at the United Nations Simulation Conference. She represented Bangladesh as an ambassador in this event held in Thailand.
Nanziba said that Bangladesh won the Best Diplomat Award-2022 for the first time, beating more than 200 young representatives from 125 countries. The theme of this event was human rights violations in the Occupied Palestinian Territory. She won this award by participating in various competitions including speeches, debates and cultural performances.
Before this, Nanziva also represented Bangladesh at the Best Diplomats Conference organized by the United Nations Simulation in Dubai last September. At that time she received the 'Outstanding Diplomat Award'. Nanziva served as the youth representative of Bangladesh and Uruguay last time. This time she represented Bhutan and Bangladesh simultaneously.
The multitalented Nanziva is a trainee pilot, journalist, presenter, producer, writer, UNICEF youth representative and debater. She directed her first short film 'Careless' at the age of 13. She won the 'UNICEF Meena Media Award' for directing her first documentary 'Sada Kalo'. After that, she made six short films and documentaries including 'Grow Up', 'The Unstitch Pain'.
He produced his first play at the end of 2018. He has also scripted the play 'The Unwanted Twin'. Annie Khan, Shireen Alam, Raju Alim, Saif Saiful and many others acted in the drama.