Entertainment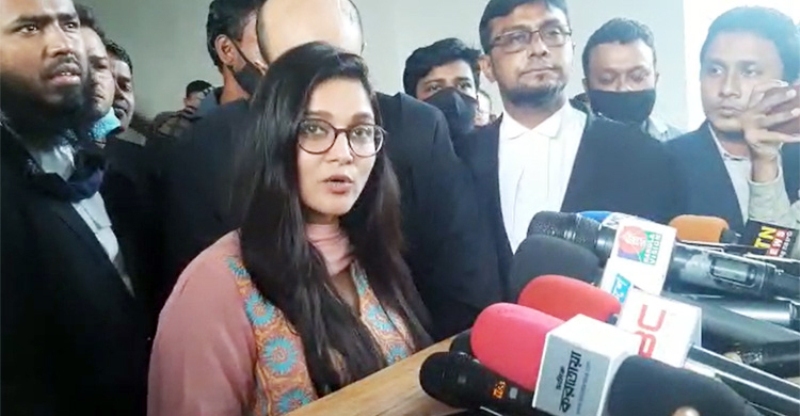 Collected
I had faith like other Evaly customers: Mithila after bail
Dhaka, December 14: The High Court has granted eight-week anticipatory bail to actress Rafiat Rashid Mithila in a case filed by a customer of e-commerce company Evaly.
Responding to a question from the media after the bail, the actress said, "Before I joined Evaly, the company had four million subscribers. The way they trusted the company, I trusted the same."
On Monday (December 13), a bench of the High Court comprising Justice Jahangir Hossain Selim and Justice Md Atowar Rahman granted bail to Mithila and another actress Shabnam Faria in the case. Earlier on Sunday (December 12), they had applied for anticipatory bail in the relevant branch of the High Court.
Asked about the reaction after bail, Mithila said, "The court said that the case against me was not strong. That's why they gave me bail in advance. I have confidence in the law. I hope that artists will not be harassed. Not just now, but in the future."
Asked if she would be more careful when doing such things in the future, the actress said, "Of course, I will be careful. I have worked with more than 100 brands in Bangladesh; However, I was not prepared for such a harassing situation."
"What I have learned through impossible harassment is that we have no agency, no manager, we have to deal individually to deal with these issues of the media," he added.
Asked if her decision to join Evaly was right or wrong, the star said, "I did not deserve to go through this harassment."
Mithila was represented by Imtiaz Farooq and Niaz Morshed. Senior advocate Yusuf Hossain Humayun, advocate Z I Khan Panna, Jasmine Sultana and Jamiul Haque Faisal were present at the hearing on behalf of Shabnam Faria. Mithila and Faria were present in the court at that time.
Regarding the bail of the two actresses, their lawyer Jasmine Sultana said that the court also directed the police not to harass the two actresses while they were on bail. Earlier, on December 4, Saad Sam Rahman, a customer of Evali, filed a case against nine people including Tahsan, Mithila and Sabnam Faria at Dhanmondi Police Station.