Entertainment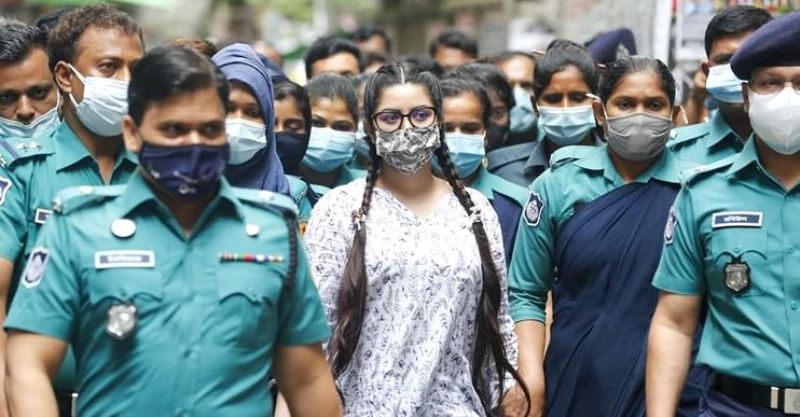 Collected
Is Pori Moni a mafia leader? Speakers ask at demonstration in Dhaka
Dhaka, August 23: A rally was held in front of the Shahbagh National Museum on Sunday (August 22) afternoon under the banner 'Outraged Citizens' demanding justice and release of actress Pori Moni.
Presided over by Akramul Haque, one of the founders of Ganajagaran Mancha and conducted by Khan Asaduzzaman Masum, General Secretary of Bangladesh Youth Union, President of Bangladesh Film and Media Society Habibul Islam Habib, play director Mostafa Monon, filmmaker Rashid Palash, Student Union organising secretary Sumaiya Setu, Student Federation President Golam Mostafa, publisher Robin Ahsan and others spoke at the event.
Besides, Shahriar Kabir, president of Ekattar Ghatak Dalal Nirmul Committee, human rights activist Sultana Kamal, Dean of Sociology Department of Dhaka University Sadeka Halim, teacher of Anthropology Department of Jahangirnagar University Rezwana Karim Snigdha and human rights activist Khushi Kabir also spoke via video conferencing.
They said, "Is Pori Moni a mafia leader? Did Pori Moni kill anyone? Pori Moni stood with her head held high. Pori Moni spoke openly and that was her mistake! We do not understand why several corrupt individuals are roaming freely while Pori Moni has been targeted. She is being served injustice as a woman and citizen of this country. Whether Pori Moni decides to cosume liquor or poison while at home is entirely her personal choice. She has not given others the right to stick their noses in her business."
The speakers urged Prime Minister Sheikh Hasina's intervention. "Prime Minister you are known to support films and arts. You know everything, you see everything. Please help release Pori Moni, show some heart. She is your daughter as well, she adressed you as mother. We urge you to look into the matter and arrange her release."
Coming down hard on those criticising Pori Moni, they said, "Those wanting this case to go on and is opposing Pori Moni's release, what if you're fed alcohol tomorrow and detained? Would you certainly enjoy it? We know the journalists and newspapers trolling Pori Moni will flock like beggers if invited for a liquor party free of cost."
Meanwhile, Pori Moni's lawyer has applied for bail in a case filed under the Narcotics Control Act, saying that if the actress is detained in jail, there will be irreparable damage to the film industry. In the application, lawyer Mujibur Rahman has given eight reasons for granting bail to the popular Dhaka-film actress.