Entertainment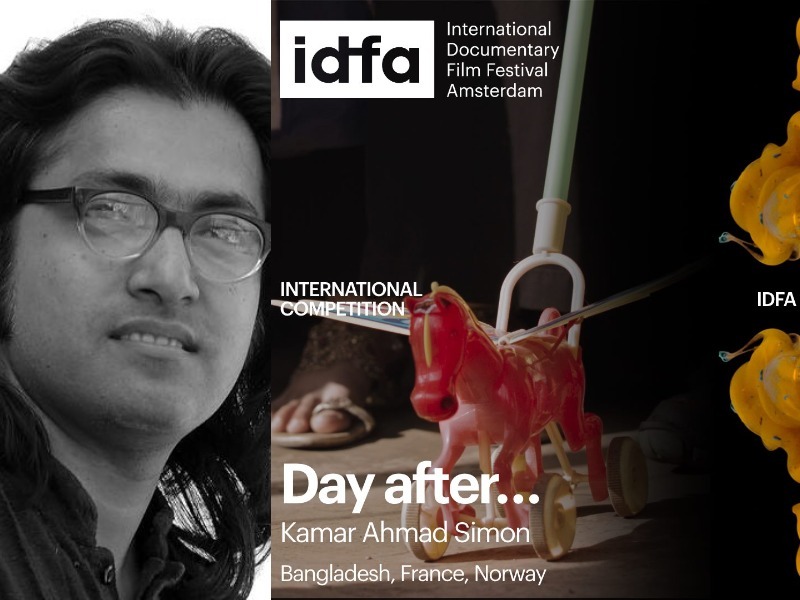 www.facebook.com/film.kamar.simon
Kamar Ahmad Simon's 'Anyadin…' selected at the International Documentary Film Festival Amsterdam
Dhaka, November 3: Kamar Ahmad Simon's 'Anyadin…' (Day after…) has been selected at the International Documentary Film Festival Amsterdam (IDFA) for its 2021 international competition.
The festival's Artistic Director Orwa Nyrabia confirmed the news.
Over 300 films will be screened during the 12-day long festival.
'Day after...' will premiere at the Tuschinski Theater on Sunday (November 20) at 9:00 pm.
"Anyadin..." is one of the 14 films from 21 countries, including France, Russia, Germany, Italy, Netherlands, Argentina and Portugal, to compete for the prestigious award for best non-fiction feature film.
Simon's latest film is the second installment in his "Water Trilogy".
He will be competing alongside Ukrainian filmmaker Sergei Loznitsa, Portugal's Susana de Sousa Dias, Russia's Aliona van der Horst and others.
The acclaimed director received the top prize at Open Doors Hub in Locarno for the script of 'Day after…' in 2016 and was featured as the Red Carpet Director on the Piazza Grande, Locarno's 8,000 seat open-air theater.
His film won the ARTE international prize at the same festival.
The director said, "Though not many of us may not have heard of IDFA in Dhaka, but, it is one of the largest international film festivals, and this was my first ever submission! What else I could expect from a film! I feel it's a crucial moment for Asian filmmakers who are trying to narrate a story in their own language and style."
The winners will be announced at a gala event on November 25 at the famous Eye Film Museum in Amsterdam.
The IDFA takes place every year from November 17 to 28.