Entertainment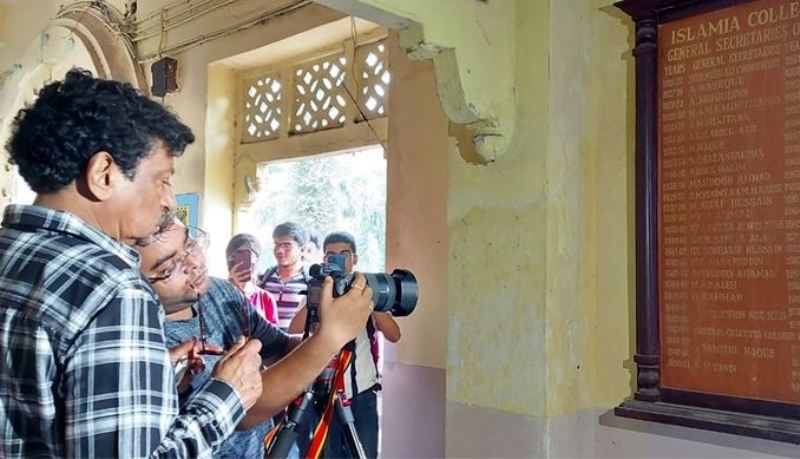 Collected
Kolkatay Bangabandhu: Gautam Ghose in Dhaka to make Sheikh Mujib documentary
Dhaka, May 14: Renowned Indian filmmaker Gautam Ghose is currently in Dhaka to make a documentary 'Kolkatay Bangabandhu'. He will stay in Dhaka and Tungipara for seven days to collect documentary material. He will also meet Prime Minister Sheikh Hasina.
Gautam Ghose, India's national award-winning film director, told reporters that the 30-minute documentary would be based on the Kolkata life of Father of the Nation Bangabandhu Sheikh Mujibur Rahman. The documentary will be released in June.
He said that an emotion has worked in making this documentary about Bangabandhu in Kolkata. "When I turned on the camera, it seemed that Bangabandhu was walking around. I consider Bangabandhu's unfinished autobiography and the book written by Sheikh Hasina as the most authentic in making this documentary."
He made the remarks at the Foreign Ministry on Friday afternoon. Ghose said, "Let's see. We will do our best."
He said that Prime Minister Sheikh Hasina's words will be portrayed in this documentary. "The scope of Bangabandhu's life is so great that his bravery can be understood by watching the episode of Kolkata." Gautam Ghosh said, this documentary will be made entirely on Bangabandhu.
Foreign Minister Dr AK Abdul Momen, who was present at the time, said it would have been better to make such a picture after independence. Due to the darkness in 1975, it was not possible to proceed. State Minister for Foreign Affairs Md. Shahriar Alam said that if one does not know the Kolkata episode, knowledge about Bangabandhu's life will remain incomplete.
Studying at Kolkata's Islamia College (now Maulana Azad College), staying at the Baker Hostel, being involved in the student movement at Calcutta University, spending the night on Alimuddin Street, wandering around the Park Circus, his fiery speech on the Brigade Ground - many more from Bangabandhu's favorite city alleys. Gautam Ghose is capturing the camera.
The city of Kolkata has a big role in Bangabandhu's life. This documentary will highlight Bangabandhu's student life and the liberation war of Bangladesh, his life and activities in Kolkata. The documentary is being co-produced by Friends of Bangladesh in India and the Bangladesh High Commission in Kolkata.
In early April, Gautam Ghose officially started shooting for the documentary 'Kolkatay Bangabandhu' at Islamia College, which is associated with the memory of Sheikh Mujibur Rahman. Bangladesh Deputy High Commissioner Tawfiq Hasan, film director Gautam Ghose and Friends of Bangladesh vice president Satyam Roy Chowdhury have signed a tripartite agreement to make a documentary in the light of the long-researched screenplay.