Entertainment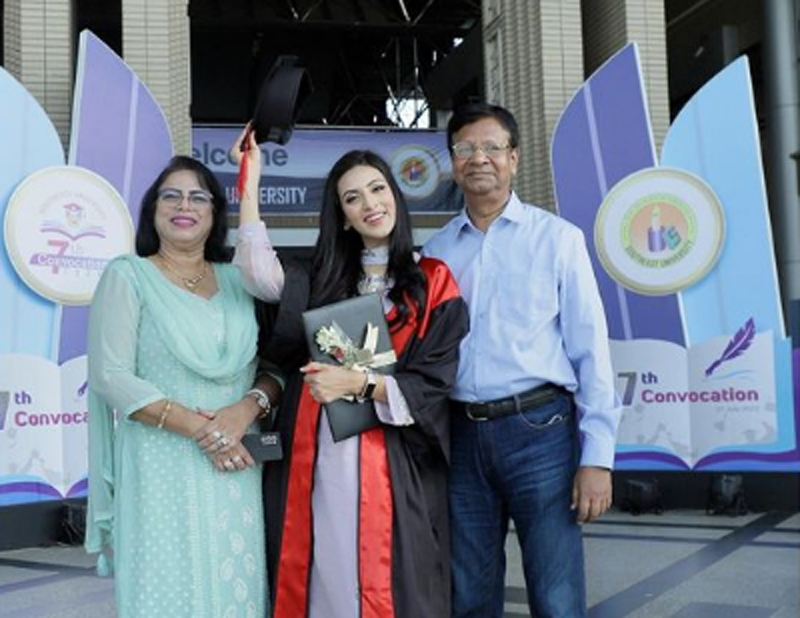 Bidya Sinha Saha Mim Instagram page
Mim ends her education career
Dhaka, 24 July 2022 : Vidya Sinha Mim, the popular actress of the country, has completed honors and masters in Bengali literature from private university South East.
The actress of 'Amar Praner Priya' received her official graduation certificate from the university.
On this occasion, the seventh convocation of Southeast University was held at Bashundhara Convention Hall in the capital on Thursday, July 21.
Mim received the certificate of completion of his education from Education Minister Dr. Dipu Moni from the presence there.
Thanking the university authorities, Mim wrote, Thank you to Southeast University for such an arrangement. Thanks to all my teachers who helped me to complete my studies. It is not very easy to work in media and continue studying at the same time. Thanks to my classmates who helped me later even if I missed any subject related to studies. It makes my study easier.
Mim got married at the beginning of this year. Later became a UNICEF Goodwill Ambassador. Her recent Eid-starrer 'Paran' has been accepted by the audience.
All in all, Mim sees the year 2022 as a blessing.
She said, "I am very happy with all the achievements of life this year. 2022 is going very well for me. Thanks to the creator. I thank my parents. Everyone pray for me. Love for all."