Entertainment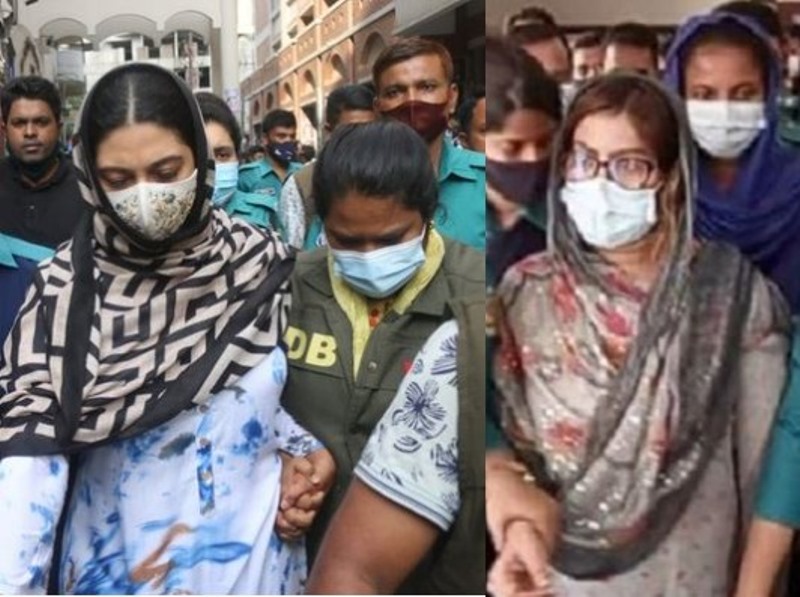 Collected
Model Piyasa and Mou placed on three-day remand for blackmailing, possession of drugs
Dhaka, August 3: Models Faria Mahbub Piyasa and Maryam Akhter Mou have been placed on a three-day remand for possession of contraband substances and blackmailing rich victims with private pictures, that were clicked with the intension of extorting money from them. According to police, the two models are a part of a gang and would invite rich people for partying, where the two would supply them with drugs and liquor and intoxicate them. Later, they would click intimate pictures with the victims and use those for blackmailing and extorting money.
Police first raided Piyasa's house in the capital's Baridhara around 10pm on Sunday (August 1). She was later arrested at around 12.45 am and taken to the DB office for questioning.
Meanwhile, on the information given by Piyasa, the detective police conducted a raid at Mou's residence on Babar Road in Mohammadpur. Huge quantities of alcohol were recovered from her home. Later, Mou was arrested around 1 am. She was also taken to the DB office for questioning.
Meanwhile, after arresting the two models, Harun-ur-Rashid, Joint Commissioner of the Detective (North) Branch of the Dhaka Metropolitan Police, briefed reporters in Mohammadpur.
"They are both members of an organized circle. We have received many blackmail allegations against them. Their homes were raided to investigate the incidents. Foreign liquor, yaba and substances were found in their houses. There was also a liquor bar in Mou's house," Rashid said.
Meanwhile, Dhaka Metropolitan Magistrate Shahidul Islam granted a three-day remand after the two models after they were produced in court on Monday (August 2). The police had applied for a 10-day remand for both.
Earlier, the two were brought to the CMM court in Dhaka under tight security.
Speaking to reporters, Rashid had said that separate cases will be filed against them in Mohammadpur and Gulshan police stations under the Narcotics Control Act. There will also be separate cases against them for blackmailing as well.
Defendant's lawyers told the court that the police had launched a conspiracy case against the accused and arrested them. So they opposed the remand and expected bail from the court.