Entertainment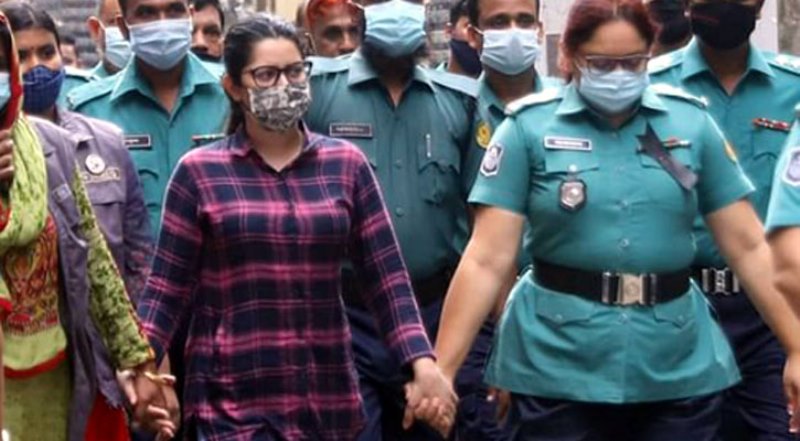 Collected
People are conspiring against me and you're laughing: Pori Moni tells crowd at court
Dhaka, August 11: An irate Pori Moni, who is currently undergong trial for a drug case, told a crowd, "People are conspiring against me and you're laughing," before leaving the court on Tuesday (August 10) after the second remand hearing.
Meanwhile, the court has placed Pori Moni on another two-day remand. On Tuesday, Dhaka Metropolitan Magistrate Debabrata Biswas issued the remand order.
After a four-day remand, the actress was produced in court on the same day and asked to be remanded for another five days. Following the hearing, the judge granted a two-day remand. Pori Moni's accomplice Ashraful Islam Dipu was also placed on a two-day remand in the same case.
During the remand hearing, Pori Moni was seen wiping her tears, while producer Nazrul Islam Raz was seen upset. On the other hand, Ashraful Islam Dipu was seen crying.
Meanwhile, the Criminal Investigation Department (CID) of the police has recovered six expensive cars, including a BMW, from the homes residences of Pori Moni, model Faria Mahabub Piyasa, Nazrul Islam Raz and Sharful Hasan alias Mishu Hasan.
On Tuesday (August 10) evening, CID Additional Superintendent of Police (Media) Azad Rahman said, "A total of six expensive vehicles were recovered. One from Pori Moni's house, two from Piyasa's house, two from Raz's house and one from Mishu Hasan's house. The vehicles were recovered during the investigation of the case."
Meanwhile, CID Chief Barrister Mahbubur Rahman said on Tuesday afternoon, 'We have conducted raids and searches in different places in this incident. A total of six vehicles, including three jeeps, a Ferrari, a BMW and another car were seized during the raids. Besides, we have seized various documents, including mobile phones, laptops and electronics devices."
He said, "We have started forensic examination of the seized devices. The liquor that has been found is undergoing chemical testing. We have questioned those who have been in remand for so long. We have received various information. Hopefully, we will be able to complete the investigation within the stipulated time. The cases have to be completed within the stipulated time."
"In the meantime, I have seen the names of different people coming in news. However, we will give details about involvement only after completing the investigation. If names keep cropping in this way, many will be disgraced and embarrassed for no reason," he said.