Entertainment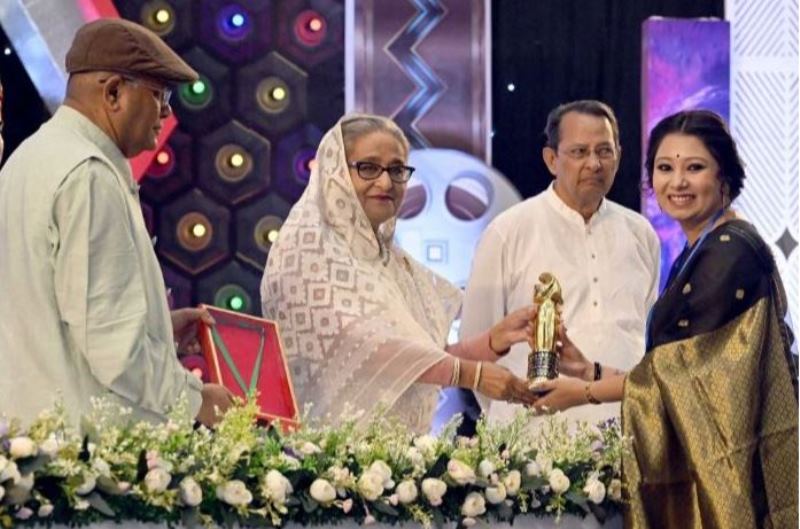 Photo: PID
Prime Minister confers National Film Awards
Dhaka, March 10: The National Film Awards 2021 conferring ceremony was held at the Bangabandhu International Conference Center on Thursday. Prime Minister Sheikh Hasina attended the ceremony as the chief guest and handed over the prizes to the winners.
Hasanul Haque Inu (MP) was the special guest on the occasion and Minister of Information and Broadcasting Dr. Hasan Mahmud presided.
This year, as usual, 34 awards were presented in 27 categories for contributions to various fields of cinema. Among them, late Gazi Mazharul Anwar won as the best lyricist for the song 'Antare Antar Jwala' from the movie 'Joiboti Konnar Mon'. Jahura Anwar, wife of the legendary lyricist, accepted the award from the Prime Minister on his behalf.
In her immediate reaction after receiving the award, she said, "The reaction to accepting the award on his behalf is mixed for me. There is joy and pain. He would be very happy if he was alive today. Pray for him."
Actress Dolly Zahoor and actor Ilyas Kanchan have jointly received the lifetime award. Also this time, 'Laal Moroger Jhuti' produced by Matia Banu Shuku and 'Nonajoler Kabbo' produced by Rezwan Shahriar Sumit have been jointly selected in the best film category.
Rezwan Shahriar Sumit won the best film director for the movie 'Nonajoler Kabbo'. Siam Ahmed for 'Mridha Bonam Mridha' and Mir Sabbir Mahmud for 'Raat Jaga Phool' won jointly as Best Actor. Ajmeri Haque Bandhan for 'Rehana Maryam Noor' and Tasnova Tamanna for 'Nonajoler Kabbo' jointly won the best actress award.