Entertainment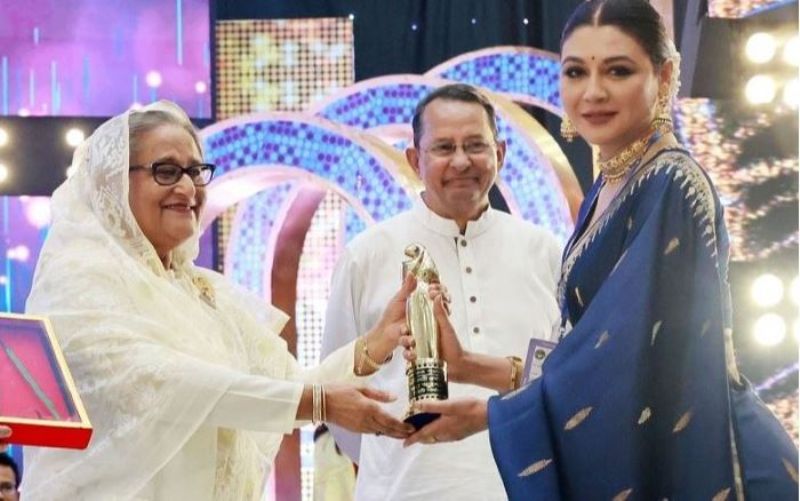 Collected
Prime Minister Hasina presents National Film Award
Entertainment Reporter, Dhaka, 14 November 2023: Prime Minister Sheikh Hasina handed over National Film Awards to talented artists who have made significant contributions to the film industry. On Tuesday night, the Prime Minister attended a function at the Bangabandhu International Conference Center (BICC) in the capital and presented the prizes to the winners as the chief guest.
The best film award was jointly won by 'Kura Pakkhir Shunne Uda' and 'Paran'. Suchintya Chowdhury (Chanchal Chowdhury) won the best actor in the lead role. He received this award for his performance in the movie 'Hawa'. And Jaya Ahsan and Rikita Nandini Shimu received the award for the best actress in the lead role. They received this award for the movies 'Beauty Circus' and 'Shimu' respectively.
Syeda Rubaiyat Hossain got the best director award. She received this award for the film 'Shimu'. Apart from this, Mohammad Nasir Uddin Khan won the best supporting actor, Afsana Karim (Afsana Mimi) won the best actress. They have been awarded this honor for 'Paran' and 'Paap-Punya'.
SM Kamrul Ahsan's 'Ghare Fera' won the award for the best short film.
The best documentary film was Dr. AJM Shafiul Alam Bhuiyan's 'Bangabandhu and Dhaka University'.
Subhashish Bhowmik won the best actor in a negative role, for the movie 'Deshantar'.
Saiful Imam (Dipu Imam) won the Best Comedy Award for the film 'Operation Sundarban'.
Joint Best Child Artist went to Bristhi Akhter and Muntaha Emilia for 'Rohinga' and 'Biratyo' respectively.
The award for Best Music Director was received by Mahmudul Islash Khan (Ripon Khan), for the film 'Pye Chhap'.
The best singer award was won by Subhashish Majumdar Bappa (Bappa Majumdar). He was awarded for the song 'A Mon Bhije Jaye...' in 'Operation Sundarbans'.
Atiya Akhtar Anisa was the best singer.
Best Lyricist award was won by Rabiul Islam Jibon and Best Composer was awarded to Shaukat Ali Imon.